Sony's largest Full HD television: Bravia W85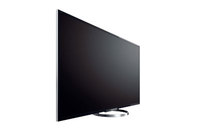 See the big picture with the new Bravia W85 – it's a revelation in colour, sound and smart connections. Sony's largest Full HD LED television (65") partners impressively detailed pictures with powerful, bass-rich audio and One-touch connection to your mobile.
With its living room-friendly 65" screen size, the new W85 is the biggest Full HD TV in the Bravia range. Despite imposing screen dimensions, an extremely slim bezel lends W85 the look of a smaller television set. It's the perfect way to immerse yourself in really big, beautiful pictures without overpowering your living room.
Sony's powerful X-Reality PRO picture engine cleans and refines TV signals for extraordinary detail, colour and contrast – whether you're watching movies on Blu-ray Disc, regular broadcasts or even internet video.
Unique to Sony, Triluminos Display enriches your viewing with a wider palette of richly realistic colours, from lush meadows and shimmering seascapes to skies, flowers and faces. The Bravia W85 transports you into a world of rich, vibrant colour you've always dreamed of.
Fabulous pictures are matched with full-range, distortion free audio, courtesy of Sony's unique Signal-to-Sound architecture. Advanced digital processing technologies enhance the emotion and detail of whatever you're watching. It's complemented by a Bass Reflex speaker system with three separate drive units: one for rich low frequencies; a separate tweeter for crystalline highs; and an assist speaker on the TV's rear that delivers solid, powerful bass.
It's easy to share content wirelessly from your mobile with everyone in the room. Just touch your NFC-compatible Xperia smartphone or tablet against the supplied One-touch remote. Then mirror the screen of your portable device – letting everyone see photos, videos, games and apps on the big screen of Bravia with vibrant colour and detail.
Available for free download, TV SideView is a free app that turns your smartphone, tablet or PC (Android/iOS/Windows 8) into a 'second screen' for Bravia. Control your TV, browse listings, get more information on shows, check friends' viewing recommendations via social media and more. It's relaxed, intuitive and fun.
As you'd expect, stunning pictures and sound are complemented by equally arresting looks. The latest evolution of Sony's signature 'Sense of Quartz' styling takes its cues from cutting-edge interior design, giving Bravia an unforgettable presence to any living space.
The new Bravia W85 65" Full HD LED television is available in Europe from October 2013.