Albanian Landscapes: A family half-term adventure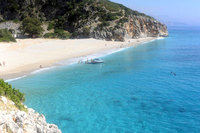 Albania's famous cousins Greece, Croatia and Italy have hogged the family holiday limelight for decades – it's time to move aside the preconceptions and look properly at this last undiscovered treasure of Europe.
It's a land bursting with fresh water springs, olive groves, lemon trees and wild herbs. There are hundreds of kilometres of white-sand beaches, crystal-clear waters and shorelines as dramatic as the Norwegian fjords. Mediterranean villages sit alongside Roman remains, castles and UNESCO protected sites. With national parks of international importance and alpine views which rival Austria, it is true to say that Albania will not be considered as 'off the beaten track' for much longer.
Top Albanian operator, Past and Present Journeys create bespoke yet affordable holidays to Albania for all the year round and is revealing for the first time an abbreviated guide to some of the great things for families to do in Albania. All of the following activities are particularly suitable for Albania's mild autumn season, therefore are great recommendations for October's half term holiday.
1. Ride on water:
River rafting; often the activity of the fool-hardy or adventurous, becomes an entry level family activity at one of Albania's most spectacular natural attractions, the Osumi river valley and canyons. Considered to be Class II, prior white-water rafting experience is not necessary; floating past the thunderous waterfalls which crash heavily from above makes for a safe yet exhilarating trip for families. Other highlights include spotting the Albanian wildlife at home in the Mediterranean bushes that flourish along the slopes of the canyon, punctuated only by pockmarked cavern walls and small caves just waiting to be explored.
Sailing the Koman-Fierze ferry across Lake Koman in the Albanian Alps is reminiscent of navigating through the Norwegian fjords. The ferry journey begins on the sparkling Lake Koman and continues through the spectacular canyon of river Drin, through the high, mountainous region (with peaks of 1500m) inhabited by strong and fiercely independent people – an area which claims to never to have been conquered in the last 2000 years of Balkan history. Through deep valleys, over gorges and interconnecting rivers, this almost silent picturesque journey shows an undisturbed, rural Albania. Occasionally the boat stops for the local, hardy peasants who alight and proceed to climb up the excruciatingly steep hills en route to their hidden villages.
2. Go walking:
There are so many calm, beautiful walking regions within Albania; walking with the experts at Past and Present Journeys, the unexpected history of this exciting country comes alive.
Walk in the footsteps of Julias Caesar in the woods of the Llogara National Park. Caesar's Pass (Qafa e Cezarit) named after Julius Caesar who set foot in the area in pursuit of Pompey is located near Llogara Pass. The stretch of coast where Caesar landed his troops is today a long, white almost deserted beach of Palase, and it looks pretty much as it would have done two thousand years ago. The Llogara Park, located between the Adriatic and Ionian seas, starts at 470 m above sea level and climbs in parts up to 2018 m, where the air currents malform the trees into beautiful shapes. Clear mountain air combines with fresh sea air and creates a virtuous atmosphere where wildlife is abundant; these walks are perfect for spotting birds and animals such as foxes, wild cats and deer.
Take to the rural valley of Theth - untouched by time – and walk through the perfectly preserved alpine village of typical houses still covered with wooden tiles in the most spectacular mountain location. The whole day can be spent chatting, picnicking and ambling past spectacular waterfalls. Nearby is the declared monument of nature known as the Blue Eye spring, but beware, this idyllic resting place is the nucleus of a terrifying myth of a twelve headed dragon.
3. Build sandcastles:
One of the greatest assets of Albania is its coastline, the Adriatic coast is nearly 300km long and has shallow water and long sandy beaches, much of the coast is lined with pine forests which give way to wetlands and lagoons rich with biodiversity; a haven for eco tourism and bird watching. Whereas in the south, the Ionion coastline is dramatic and rugged, with steep backdrops to fine white sandy beaches. Citrus, fig and olive trees dominate the landscape, giving it a classical Mediterranean beauty.
It's a challenge to suggest just a couple of beaches suitable for families, as the options are almost countless. Best for building sand castles probably would be the vast sandy Spile Beach, which offers an amazing pine forest for shade and exploration should the heat all become too much. Directly opposite the Greek Island of Corfu is Saranda beach, a mixture of sand and pebble with the clearest waters. Or Ksamili beach; some say it belongs among the Caribbean Islands because of its powdery white sands and clear waters. Also very close to the Island of Corfu, it's a famous spot in Albania for island hopping – a wonderful way to idyl the afternoon away with the family.
4. Explore a real castle:
Take a break from building castles of sand and see tales of knights and kings and rulers come to life. Along the Albanian Riviera in the District of Vlorë's old town-castle which is surrounded by abandoned houses owned by the local residents. The castle is used today and houses many churches; stone gates, humble houses and small domes exist alongside the mansions of the rich families, with exception to the mansions, families can enter and explore these ancient buildings at will.
Also nearby is the medieval castle of Ali Pasha (known as Aslan, "the Lion") situated in Porto Palermo Bay. Known as a tyrant who switched allegiance between Napoleon Bonaparte and Lord Byron of Britain, his colourful career belongs as much to Albanian history as it does to Greece and Turkey. The castle is still in pristine condition, it was built on the hill of what looks like a private island, but is actually on a small peninsula, connected to the mainland which can easily be walked to. Clamber high up the hill and be rewarded with the breath-taking views of the sparkling coastline.
Another castle of note is away from the coast in the UNESCO World Heritage Site of Gjirokastra, known as the City of Stones. Dominated by the sheer flanks of its 13th-century castle, Gjirokastra is a magical city. A tour around the castle and the cobbled streets brings to life the adventurous medieval tales from its tumultuous past. And this amazing city hides another great secret: below its towering stone houses and cobbled streets a vast network of underground tunnels await exploration, this once top-secret complex was intended to hide and protect high-level party officials in the event of a nuclear war or invasion by NATO, Yugoslavia, or the USSR, as it was known then. Today, the tunnels are seen as an opportunity to educate Albanians and tourists about the unpopular history of communism in the country between 1946 and 1991.
5. Go horse-riding:
Gifted with beautiful mountain scenery, large open national parks and a stunning coastline, Albania has an untamed beauty that is now a rarity in Europe. Taking a slow horse ride cross country makes it so very easy to observe up-close Albania's undisturbed rural traditions, its wild nature, small farms and its countless ancient ruins.
For the novice rider, treks can last from just an hour or two, through to several days for the more enthusiastic equestrian. The animated guides at Past and Present Journeys breathe life into the simplest of horse rides, like the ancient pathways of Zagoria and Pogon, awakening the story, to a guided trek through a land of myths, tales and ballads. Rides pass through stubborn ruins like those from the Ilirian civilization, medieval populated centres, and ancient cities like that of Antigonea in the Antigonea archaeological Park.
Picnics are supplemented by natural springs bubbling forth with fresh drinking water and trees of citrus, figs and olives provide plentiful opportunities for an impromptu pause and additional refreshment.
6. Spot wildlife:
The Butrint National park includes a very well preserved archaeological area and impressively, an uncontaminated natural environment of major international importance. The park contains a wide variety of habitats – coastal wetlands, saltwater lagoons, rivers and open grazing lands, which are home to many rare birds, insects, amphibians, mammals and reptiles and in 2003 it became a Ramsar Wetlands Site of International Importance. The Park shelters 26 species of global conservation concern.
The Prespa Lakes region is another natural park of great significance due to its biodiversity and endemic species. Prespa is a transboundary park shared between Greece, Albania and the Republic of Macedonia. The main features of the region are the two lakes that also give the name to the area: Macro Prespa and Micro Prespa, which lap the shores of the three countries and connect them in this way symbolically. It hosts more than 1,500 species of plants, 40 species of mammals, 260 of birds, 32 reptiles and amphibians, and 17 species of fish including a number of species found only here.
Located in the heart of the Albanian Alps is the Valbona National Park, an outstanding opportunity for nature lovers. The high mountains host an austere Alpine environment, while the valleys shelter the full complement of Mediterranean species, giving way to one of the richest floras in Europe. The Alp's hold a healthy, preserved population of brown bears, wolves, wild boar, chamois and other large mammals, with rural locals living in peace, side by side with them. Here is a reminder of living millions of years ago, a chance to observe how the peaks were then. Otters can be seen chasing silver and red-spotted trout in the mountain rivers and on a guided tour with Past and Present Journeys, one can safely be led into the mysterious deep Beech forest to observe the resident gentle Brown bears that live there.
7. Day trip to another country:
Albania borders Macedonia, Kosovo, Montenegro and Greece. Whilst there is so much to do and see and experience in this wonderful country, part of the excitement can also be leaving it for a day…
Take a trip through a non-trafficked border point and drive along the Prespa Lake transboundary Park, into Macedonia. Shared between Greece, Albania and the Republic of Macedonia, these wonderful lakes hold enormous significance for their endemic species and their great biodiversity, the park is a wonderful place to spot wildlife in its natural habitat.
Saranda is situated on a beautiful horseshoe bay between the mountains and Ionian Sea. Regarded as one of the most attractive towns on the Albanian Riviera, the beach is located directly opposite to the Greek Island of Corfu. It takes just half an hour by ferry to ride between the two countries.
Pestani, just across the border in the Republic of Macedonia is the largest village on the shores of Lake Ohrid. Here hides the Bay of Bones, an incredible museum on water which is a reconstruction of a pile dwelling settlement from the Bronze Age.
8. Have an unusual sleepover:
Accommodation within Albania is quite different to the typical resort-style, all-inclusive complexes that many tourists have come to demand. Hotels in Albania are predominantly independent, some are luxurious, but still boutique and always with a strong emphasis on local style and hospitality. Always offering something of the unexpected, look a bit further and there are some very amusing, unusual style sleepover opportunities:
On Maja Gjarper – which translates as Snake peak - families can stay in a traditional shepherd's 'stan' or better understood as a 'guest house'. These authentic, rustic mountain huts are cosy and warm and offer a restful, holistic night's sleep after a day walking in the Albanian countryside. There are hundreds of peaceful countryside walks to be enjoyed on Maja Gjarper and when the plums are in season in the old collective orchards, it's also a great destination for watching the gentle brown bears.
At 2692 meters, Jezerca is the highest mountain (wholly) within Albania. One night can be spent in the 'Shpella e Malsore', the Cave of the Old Malesori, where a famously independent old highland woman used to spend summers with her goats. If the idea of a cave is a little too 'authentic', high tech tents can be hired; offering a remarkable family camping experience.
In the UNESCO quarter Berat, known to Albanians as The City of a Thousand Windows, families can stay in a traditional style house, high enough in the hills to see the vista across the houses and down onto the bay. Past and Present Journeys are known for adding more to their tourism experiences and also offer local hospitality experiences, including dinners with local families and trips to the local schools to meet with the class taking English lessons. Or for something even more adventurous, also in Berat, it is possible for families to also stay for a night, or two inside the castle's fortification walls. Not every back to school exercise book can boast a sleepover inside a medieval castle!
So, perhaps the nearest Albania gets to offering a family resort complex is the extremely beautiful wooden tourist village in the Llogara National Park. There are 16 wooden bungalows which cost approximately £50 per night for four people – and that price includes breakfast! The Llogara appeals to all ages and has much to keep every member of the family happy all year round. From the swimming pool, basket-ball court, mini-soccer and mountain climbing equipment, activities can be learned and skills honed. And of course, there is a guide ready to share all the beautiful hidden places of the National Park, such as Julius Cesar's slope, the natural planation and the regional caves. And of course, a spa. Well, which parent wouldn't want some 'me' time?
Half term prices from Past and Present Journeys:
Past & Present Journeys is offering a twelve day family holiday which includes rafting on the Osumi River, cycling around lake Butrint and parts of the Lake Prespa Park, horse-riding through the ancient ruins of Antigonea, walking on Caesar's Path in the Llogara National Park , boating on the Ohrid Lake Springs in the Republic of Macedonia, resting time on the beach in Ksamil (opposite Corfu) and oodles of foodie delights including time on an olive plantation and a magnificent gourmet family picnic in the grounds of the Castle of Porto Palermo. Prices for half term (21st October – 1st November) are from £1246 per person.
A slightly shorter eight day family holiday includes the rafting on the Osumi River and Canyons, walking around the ancient city of Apollonia of Illyria and Caesar's path in the Llogara National Park, time resting on the pristine beaches of Sarande, gourmet picnicking at the Castle of Porto Palermo, wine tasting, exploring Gjirokaster's once-secret underground passageways, shopping time in the Old Bazaar of Kruje and horse riding to the Labova of the Cross Church and the ancient sites of the Antigonea archaeological park. Prices for half term (21st October – 1stNovember) are from £947 per person.
Pricing for both trips is based on a family of four travelling and the cost includes flights from London with BA or Belleair (depending on availability), all accommodation (4* boutique hotels and guest houses), English speaking guides, a modern 4FWD A/C vehicle, all equipment and bikes (where quoted) and accessories, meals – including picnics, fuel costs, all entrance fees, maps, tax.
pastandpresent.al create bespoke itineraries to cater to all time constraints, budgets and interests. So for more information, queries or to book email info[at]pastandpresent.al.