New luxury horse riding holidays from Ranch Rider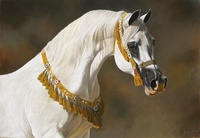 Ranch Rider is adding two experiences to its luxury portfolio, the tour operator's new specialist weeks covering horse artistry and dog sledding - the latter activity related to the Last Great Race On Earth.
Perched high up on the Pakamisa Mountain Range in northern KwaZulu-Natal, is South Africa's luxury Pakamisa Lodge. Located in a private game reserve, this exclusive property is home to a collection of magnificent Arabian horses and mixed breed horses, the 33 strong herd, the inspiration for up and coming artist, Graham Kearney. A horseman himself, Kearney has managed to capture the true spirit of the horse into his art, and he has completed commissions for several notable horse breeders, including lodge owner and expert horse trainer, Isabella Stepski. Kearney's mandate is: "If you haven't ridden it, touched it, been bitten by it or been chased by it, don't try to paint it!" Guests can learn from the master himself, the lodge hosting special artists' retreats over the coming months. The property's Italian-Spanish architecture blends the finest of European and African influence, each suite, comprising of a bedroom, lounge, deluxe-bathroom and private verandah overlooking the evergreen valley and plains of the Pongola River. An oasis of tranquility, a maximum of only 16 guests make this a truly intimate rural retreat. 6-nights with Ranch Rider from £989pp (two sharing) including, accommodation, meals, riding safari and game drives, use of facilities and taxes. Excludes car hire from £259 and return flight from £839pp. Departures on request.
A Condé Nast Johansens' award winner, the Triple Creek Luxury Resort Ranch, is a wilderness retreat situated at the base of the highest peak in Western Montana's Bitterroot Mountains. A once in a lifetime opportunity, the ranch's guests will have the chance to practice the art of dog sledding with Jessie Royer, eleven-time Iditarod Race finisher and mushing guide. Each guest will partake in the training of the 'J-Team,' their chance to play a small part in Jessie's success during the 'Last Great Race On Earth' 2014. The activity will incorporate complete instruction on how to harness and hitch a team of dogs to a sled, guests fine tuning proper stop and go procedures and learning to maneuver the sled as if they were actually partaking in the Iditarod Race. Surrounded by a breathtaking landscape, the ranch's spacious log cabins are situated amongst the towering pines, the accommodation featuring king and queen size beds, a smattering of occasional furniture, dreamy log burning fireplaces, steam showers and whirlpool baths. 6-nights in a luxury cabin with Ranch Rider from £2,949pp (two sharing) including accommodation, meals, most ranch activities, taxes and gratuities. Activity available from January 4-19, 2014. Excludes transfers from £190 (for a group of four) and return flight from £839pp.
For more information, visit ranchrider.com.