Dainese make significant changes to D-air system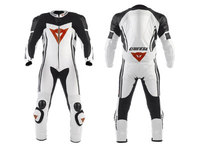 Dainese the pioneers of motorcycle safety has made significant changes to its state-of-the-art D-air technology for 2014.

In 2000 Dainese embarked on a project to design a new airbag-based technology to protect motorcyclists. By 2007 D-air Racing was in production and being tested on the racetrack by Dainese supported racers.

The outstanding protection given by D-air Racing has been documented by its success rate. Since 2009 there has been a total of 306 crashes (some violent highsides) involving a rider wearing the system with no shoulder or collarbone injuries sustained, which the system protects.

For 2014 Dainese has increased the protection of D-air Racing, which now extends to protect the chest. The whole system has been redesigned to incorporate this significant change; the size of the airbags is different and they now extend to 'hug' the riders body. A larger capacity gas generator has also been adopted to maintain the high inflation pressure.

The changes have been developed with direct input from the British Superbike Championship, who Dainese is the Official Safety Partner. BSB's director Stuart Higgs challenged the Italian brand to develop the current system to protect riders who are struck by fellow competitors after falling off.

The new D-air Racing Thorax has been tested this year by Moto3's Luis Salom who has experienced its protective abilities once or twice, with no injuries sustained to his upper body. The new system will soon be rolled out to other Dainese supported riders and help continue its development.

D-air isn't just for Dainese racers', selected UK dealers also have D-air Racing available to purchase and custom versions are available. D-air Racing and D-air Street (Dainese's road-going version of the airbag system) are the only motorcycle airbag systems, on the market, to have passed all 800 tests required to obtain the Tüv Süd certification of their performance and reliability.

Luis Salom, Moto3 rider:
The first time I tried D-air Racing was at Jerez in 2011. I'm happy to use the new D-air as you feel more protection, not only on the shoulders but on the thorax as well. The safety feeling is definitely higher.

Stuart Higgs, BSB director:
The current D-air system proved extremely effective in preventing collarbone and neck injuries, but below that are critical areas of the body, including major organs and that is what we wanted to concentrate on through our safety partnership with Dainese. Myself, and Jonathan Palmer (the CEO of MotoSport Vision) visited Dainese and between us all looked at what would be possible to achieve. This could be the biggest evolution of rider safety and we'd like to congratulate Dainese and the whole team on their work on this extremely important project.

For more information on D-air click here, or to find your local dealer visit Dainese.com.