Europcar and easyJet break new ground with mobile site for easyJet customers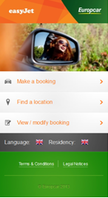 Wherever they are and whatever the time of day or night, easyJet customers can now book their car rental in just a few simple steps on Europcar and easyJet's co-branded new mobile site developed especially for the airline.

Europcar, the leading brand in mobility in Europe with a wide international network, and easyJet, the UK's largest airline and operator of Europe's leading air transport network, have created a customised mobile site which enables easyJet customers to simply link through after their flight booking to add car rental to their travel plans. Since 2003, convenience, value for money and innovation have always been at the heart of the partnership between Europcar and easyJet combined with delivering a high level of customer service.
Marcus Bernhardt, Chief Commercial Officer of Europcar group said: "We are very pleased to launch this new mobile site which is a key milestone in our partnership with easyJet and will make life really simple for our customers. For 10 years we have provided easyJet customers with a dedicated service and competitive prices across our extensive portfolio of solutions, contributing to customer loyalty over the long term. This new mobile site illustrates once again Europcar's total commitment to the customer and to shaping a better future for customers' mobility".
Greg O'Gorman easyJet's Head of Partner Marketing said: "We are really excited to be rolling out an easyJet and Europcar branded mobile site which will give millionsof passengers the ability to make and access car bookings quickly and easily from the easyJet.com mobile app and mobile site.
"We continue to invest in mobile technology to give our customers the choice and flexibility to book with us using mobile devices and handle all of their travel arrangements in one place. The new site delivers the full functionality of the website to Android and iPhones enabling bookings to be made on the go in three easy steps. We're sure it will be a big hit with our customers"
A new user friendly mobile site
Accessible from the confirmation page of the flight booking on the easyJet mobile site and apps or directly at m.cars.easyjet.com, the new mobile site offers a quick and easy booking via just three steps :

Choose location and time of the rental
Select the vehicle
Review and add options
Customers can prepay their booking from their mobile phone to benefit from lower pre-paid rates.
The mobile site is compatible with devices with screen sizes up to 7 inches and uses high quality vehicles images. It is available in nine languages: French, English (UK and USA), Spanish, Portuguese, Italian, German and Dutch.