easyJet's Mobile Host to ease and enhance the travel experience at every step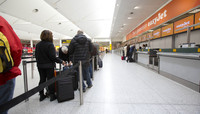 easyJet has launched a new and innovative update to its award-winning app which is designed to provide helpful and timely guidance, directions and essential travel updates to passengers travelling from Gatwick Airport.
easyJet's Mobile Host is a joint initiative with Gatwick and combines live data from the airports information systems, using Google indoor maps, together with a passenger's booking details, location and flight time. The result is personalised instructions and updates for passengers during their journey. This includes;
Check in reminders and confirmation of booked baggage allowances
Directions to bag drop, departures and gate locations
Realtime gate and baggage belt push notifications delivered direct to the phone
Initially the service will launch on iPhones for passengers travelling to and from London Gatwick Airport, easyJet's biggest base. The feature is available in seven languages and will significantly enhance the overall passenger experience every time they fly with easyJet.
A video demonstration can be viewed at: youtu.be/FwHpkBg-N64
James Millett, Head of Digital for easyJet, commented: "Our goal is to provide industry-leading customer experiences while flying with easyJet and our new Mobile Host service is yet another example of how we use innovative, mobile technology to make travel easier for our passengers.
"Passengers can now relax in the airport without the need to keep checking screens waiting for flight and gate information to appear. As soon as the gate opens, the mobile host within our app will notify them and explain where the gate is."
"This latest innovation is the result of true collaboration and integrates live data from Gatwick Data Services with passenger booking information and indoor mapping, giving real benefit."
In recent years easyJet has embraced technology to help make passenger journeys easier and more seamless. easyJet's app is the fastest airline app available and has now been downloaded more than 12 million times. Almost 100,000 passengers used mobile boarding passes last week.
Michael Ibbitson, Chief Information Officer at Gatwick, commented: "For the last couple of years Gatwick has been investing heavily in its integration and data platforms to be able to provide key passenger information in real time to our airlines. The time and effort put into mapping the whole airport with indoor maps and streetview is really starting to pay off. easyJet is our biggest airline and it is great to come to market with such innovative solutions for our passengers with them."