easyJet adds 26 new routes for summer 2015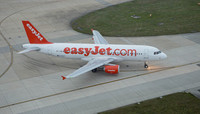 easyJet has announced it will operate 26 new routes next summer including two, Essaouira in Morocco and Stuttgart in Germany, which are new destinations for the airline.
easyJet is set to become the only UK airline offering direct flights to Essaouira, on Morocco's western coast, with two flights a week from London Luton Airport. Over 29,000 passengers are expected to fly throughout next year with the coastal town joining Marrakech and Agadir as holiday hotspots for customers visiting Morocco.
The new routes on sale will provide over 420,000 additional seats across the entire easyJet network.
Stuttgart becomes the airline's eighth destination in Germany and a brand new one for easyJet's growing network.
Porto in Portugal becomes a new easyJet base with new UK flights to and from Manchester, Luton and Bristol. The new base will enable the airline to further cement its strong position in Portugal, following on from a base in Lisbon which opened in 2012, and is set to improve economic links between the UK and Portugal.
Sophie Dekkers, easyJet's UK Director, said: "We're pleased to be continuing to deliver an unrivalled network which, with today's announcement sees two completely new destinations and 26 new routes. Our new routes are making it easier and more affordable than ever for our customers to travel to a range of summer sun destinations, along with connections to business hubs for our growing proportion of business travellers.
"We expect our new destinations to be especially popular with passengers and with a mixture of fantastic summer sun hot spots and short city breaks such as Stuttgart, we are continuing to deliver a network of destinations which provide our customers with flexibility and choice, underlining our commitment to both leisure and business passengers alike."
Over 37 million seats are available to purchase now at easyJet.com, across the entire network, enabling passengers booking early to secure the best fares for summer 2015. More than 21 million of these seats are available on flights in and out of the UK.
Customers can look forward to taking advantage of new routes from across the UK continuing into the summer, including:
Luton to Essaouira, from £40.99 one-way*
Manchester to Porto, from £30.99 one-way*
London Gatwick to Stuttgart, from £38.99 one-way*
Bristol to Catania, from £34.99 one-way*
*Fares per person, based on two people travelling on the same booking.