Culinary tours in India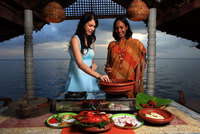 Winter is rapidly making its presence known, and there is no better time than now to plan an escape somewhere warm and welcoming. India has both of these attributes - along with some of the tastiest food combinations on the planet. Spice up this season and explore India through the unique perspective of your palate on a culinary tour of this fascinating and diverse country.
To make a food pilgrimage even more tasty, Travel The Unknown are offering £300 off culinary tours in India this November; Delicacies of North India and Taste of South India. Join us as we soak up the atmosphere in vibrant markets, visit historical landmarks and cook incredible gastronomic fare.
You can expect to experience the exotic blend of spices, distinctive flavours and imaginative ingredients that Indian cuisine is famed for and which has captivated food lovers throughout the centuries. The exciting yet subtle seafood of the south and the delectable, delicate burst in your mouth experiences which can only be found in the north create a variety in cuisine not found anywhere else in the world. Allow your taste buds to discover India in a way few get to enjoy on one of our culinary tours, which take you to incredible locations and tantalize all your senses.
North India offers a tapestry of flavours available for all who wish to sample some of the tastiest dishes on the continent. Hunt for fresh local produce in colourful markets and cook with your finds in the Himalayan foothills, whilst exploring North India's famous sites such as the Taj Mahal and Agra Fort.
In the South, you can straddle the coastline and journey from the Indian Ocean to the Arabian Sea. Along the way, follow in the historic footsteps of the spice route traders, explore spice and pepper plantations, learn to cook on the stunning Keralan backwaters and on the lawns of authentic homestays.
The best way to experience a country is through its cuisine – so take advantage of Travel The Unknown's special offers this autumn.
For more information, visit traveltheunknown.com.