Alex Lowes crowned British Superbike Fastest Lap League Champion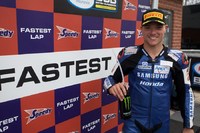 Speedy is delighted to congratulate the winners of the MCE Insurance British Superbike (BSB) Speedy Fastest Lap League 2013.
This year's MCE British Superbike champion Alex Lowes was also crowned Superbike Fastest Lap League champion while Alastair Seeley took the prize for the Motorpoint British Supersport Fastest Lap League.
The coveted titles have been sponsored by Speedy since 2011.
The season-long league awards a point to the rider of each race that records the fastest lap with an extra point if the rider sets a new lap record.
Both Lowes and Seeley notched up points for their track scorching performances and for setting new lap records.
The 2013 MCE Insurance British Superbike Championship was decided at Brands Hatch, which took place from 18th to 20th October, with the final showdown producing some of the most dramatic action of the season.
Lowes celebrated his maiden MCE British Superbike Championship title win becoming the youngest rider ever to take the prize.
Lowes said: "It is a great feeling to be champion this year after some great battles with Shakey and the Samsung Honda team have worked hard all season to put us in the position we are now. To win the Speedy Fastest Lap award is an added bonus that I need to thank the whole team for."
The MCE British Superbike Championship is the UK's largest motorcycle racing championship, taking place from April to October over 12 race weekends in England, Scotland and Mainland Europe with a round in the Netherlands.
Speedy works closely with the event organisers to provide bespoke, specialist power and communication systems for each race weekend.
Jackie Cuthbert, Head of Marketing at Speedy, congratulated Alex and Alastair on their performances.
"Speedy plays a very active part in the British Superbike Championship and we are delighted to once again to mark the end of a successful and exciting season.
"Many congratulations to Alex and Alastair for taking the top spots in the Speedy Fastest Lap League and we look forward to more thrilling action next year."
For further information on Speedy's partnership with BSB, visit speedyhire.plc.uk/case-studies?caseName=1.