How to make the most of a Paris city break in just 3 days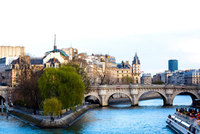 With 27 million visitors in 2012 and recently named the "Best City To Visit in 2014" by Lonely Planet, Paris, or the "City of Light", is one of the most visited cities in the world. From iconic landmarks, world class museums and galleries, to designer shopping, there is so much to see and so many things to do in Paris, which makes it a top favourite city break destination in the heart of millions of tourists. For those who are spending only a short few days in the city, it is difficult to experience everything this romantic city has to offer. Here are a few suggestions and tips from Alpha Holiday Lettings on getting the most from a Paris short stay.
Paris' main airport Charles De Gaulle is about 30km North-East of the city. One of the cheaper ways to get to the city centre is by taking the airport shuttle bus "Roissybus" which costs only €10 per person. The one hour bus journey takes passengers right into the heart of the city, where the stunning Paris Opera House is located. Paris' underground network, or metro, is vast and is a very convenient way of getting around in the city. Bundles of 10 single-trip tickets called "Carnet" (€13.30) can be bought at a discounted price, which may work out to be more economical than the unlimited "Paris Visite Pass" option (1-day pass €13.90), especially for less frequent travellers.
Paris is world famous for its arts and cultural landmarks, with the Louvre Museum at centre stage. Musée du Louvre is the most visited museum in the world, and with nearly 35,000 exhibits, it is essential to plan ahead and decide what to see in advance. Highlights at the Louvre include Mona Lisa by Leonardo Da Vinci and the statues of Venus de Milo and Nike of Samothrace. Located on the other side of the Seine is Musée d'Orsay - another world famous museum that houses many impressionist masterpieces by artists such as Monet, Manet, Renoir, to name but a few. For lovers of modern art, Centre Pompidou is a must-visit destination. An excellent way to save money and time is by purchasing the "Paris Museum Pass" (2-day pass costs €39) which includes free entry to over 60 museums and monuments, including Arc de Triumph, Notre-Dame, Les Invalides and Panthéon, as well as the museums mentioned above. It also allows pass holders to skip the queues which could prove invaluable when time is limited.
To many, the Eiffel Tower, or Tour Eiffel, is the symbol of Paris. Visitors can jump the queues at this hugely popular and busy attraction, which could be anything up to 2 hours' wait, by pre-booking tickets (€14.50) on their official website. The tricky part is that online tickets are booked up months in advance. However, a very small number of tickets do get released online again due to last minute cancellations, so be sure to keep checking their website for availability. For those who prefer not to go up the tower, a fantastic vantage point for viewing from a distance is the Palais de Chaillot at Trocadéro. This is also a perfect place to visit after sunset, when the tower comes alive with thousands of flashing lights for just 5 minutes every hour on the hour.
On the outskirt of Paris is the magnificent Château de Versailles, or Palace of Versailles. It is an opulent display of absolute power and wealth of the then French monarchy. Highlights include the Hall of Mirrors, the King's Grand Apartment and of course the vast gardens and musical fountains. Visiting Versailles will pretty much take a full day. Also true in this case, visitors can save time queuing at the ticketing office by pre-booking tickets (€25) on their official website. This way, visitors can proceed straight to the entrance into the palace (Gate A) on arrival.
There is never a lack of choice of luxury hotels in Paris, although during peak seasons accommodation in Paris could be very expensive and hard to come by. An alternative is to stay in self-catering apartments in Paris, which is more flexible and affordable especially for families with children and larger groups. A good selection of central Paris apartments and Paris vacation rentals can be found at AlphaHolidayLettings.com.