Kia electrifies Las Vegas with music-driven Souls at SEMA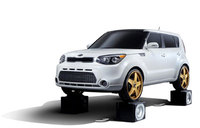 Kia provided the perfect rolling soundtrack to Las Vegas' never-ending light show as the 2013 Specialty Equipment Market Association (SEMA) Show opened with five music-inspired all-new 2014 Soul vehicles, collectively making their presence known with a display worthy of the best Las Vegas nightclub parties. The five sound-blasting creations feature music-themed builds including a DJ Booth Soul, an "Amped" Soul, the museum-like Music Memorabilia Soul, a Soul inspired by The Voice, which Kia has sponsored for four seasons, and a Soul highlighting the brand's partnership with the Vans Warped Tour. All five Souls at SEMA tell their own unique story.

"Since the Kia Soul first arrived on the scene in America in 2009, it has established a very real and remarkable connection with music," said Michael Sprague, executive vice president, marketing and communications, KMA. "After harnessing five major marketing campaigns music has become a core attribute of the Soul's persona. The SEMA show presented the perfect opportunity to bring that personality to life"

Amped Soul

Popular Mechanicshas energised this Kia Soul with the power of larger-than-life JBL speakers. Integrated into the rear-hinged doors, the JBL Pro Live sound equipment transforms this Soul into a full size boom box on wheels. With LED ambient lighting and four 12-inch Infinity power subwoofers, this Soul is ready to wow the crowds at any venue.

The Amped Soul features a modern and sleek design enhanced with blacked out windows and a custom paint job. It rolls on performance 22-inch Forgiato custom three-piece wheels with Hankook 245/30/22 tires. And to make room for the club-sized stereo, the passenger side B-pillar has been removed.
Vans Warped Tour Soul

Embodying the youthful and fun spirit of the Vans Warped Tour, Popular Mechanics designed a Kia Soul ready to hit the road on a musical journey. This unique Soul features a full custom paint job – inspired by the colors of the Van's Warped Tour – with eye-catching air-brush artwork. The side windows have been replaced with custom-built fiberglass body panels housing eight Infinity eight-inch speakers to deliver a true concert experience. And to really put you in the middle of the performance, a 50-inch flat-panel monitor has been mounted atop the car with running footage from the tour itself.

The Vans Warped Tour is about music, friends and food. To that end, this Soul has been outfitted with a slide-out rear barbeque for the full music-inspired tailgating experience With 20-inch wheels outfitted with performance low-profile tires and vibrant LED ambient lighting, this Kia Soul is made to take music lovers on a rockin' ride they'll never forget.

DJ Booth Soul

RIDESMagazine totally transformed this Kia Soul into the ultimate DJ booth on wheels. The roof was removed to give the DJ the ability to rise up and stand on a custom diamond-plated stage – which replaced the rear seats – and start spinning on the pro-grade Pioneer CDJs and mixer. Influenced by both EDM and hip-hop, this Soul is painted an eye-catching purple with turquoise accents. Outfitted with 19-inch Rotiform BRU wheels and Continental tires, the DJ Soul has been lowered with Ark Performance springs to give it an aggressive stance. With LED lighting, front and rear strobes, and a speaker enclosure built into the lower grille, it promises even the most seasoned club-goers a once-in-a-lifetime experience.

With the Maschine Mikro production studio molded into the passenger dash, every control is available at any time. Blasting the beats is a Pioneer audio system that includes five amplifiers, three component speakers, two 10-inch and two 12-inch Champion Series subwoofers, and a sound bar housing four coaxial speakers.

Music Memorabilia Soul

This one-of-a-kind Kia Soul encompasses the passion, raw talent and diversity of music as an industry and an artform. Creating a music museum on wheels, RIDES Magazine curated music memorabilia spanning rock, hip-hop and EDM history. The collection includes a signed Slash guitar, a G-Unit trainer signed by 50 Cent, a Jimi Hendrix gold album and a signed John Legend microphone, which are displayed in hand-built Plexiglas enclosures in the trunk, rear windows and rear hatch insert. This Soul was influenced by platinum and gold records: The Soul's exterior received PPG waterborne platinum silver, gold exhaust tips and anodised 20-inch gold HRE 935s

The Voice Soul

With NBC's The Voice inspiring so many talented people to sing their hearts out and bare their souls through music. RIDES Magazine customised the exterior with a bright red airbrushed The Voice logo on the side, incorporating vinyl on the window portion, as well as the inspiring words "I Want You" illuminated in the lower grille, along with the LED puddle projectors. In order to perform under pressure, 20-inch three-piece Niche Scope wheels color-matched to the vehicle, coupled with Falken tires, add style and confidence.

To become a star requires practice; luckily, an iPad Mini connected to a 40-inch LED TV allows you to use the preloaded The Voice app and sing at the top of your lungs through the wireless microphone, amplified through Rockford Fosgate speakers in their fiberglass custom pods.