Top-selling Ford Fiesta debuts Ford PowerShift with 1.0-litre EcoBoost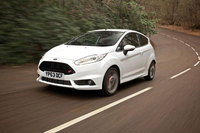 The Ford Fiesta became Europe's best-selling small car in September and for the first nine months of 2013,according to the latest figures from the provider of automotive data and intelligence, JATO Dynamics.

Ford sold 33,561 Fiestas in Europe during September and has sold 222,184 in the region during the first nine months of the year, also making the Fiesta Europe's second best-selling car overall for September and 2013 to date.

The UK remains Europe's strongest market for Fiesta and during the first 10 months of 2013, with more than 104,619 cars sold, according to latest Society of Motor Manufacturers and Traders' figures. This compares with 97,000 Ford Fiesta sales in Britain in the whole of 2012.

The Ford Fiesta range features seven powertrain options which emit less than 100g/km CO2, and includes the 1.0-litre EcoBoost, "International Engine of the Year" for both 2013 and 2012. Ford now offers a 100PS version of the 1.0-litre EcoBoost engine with Ford's advanced, six-speed dual-clutch PowerShift automatic transmission – the first time Ford has combined the two technologies – delivering CO2 emissions of 114g/km and 57.7mpg fuel consumption.

"These latest numbers prove that the efficient new Ford Fiesta, with its exciting design and technology features, has really captured the imagination of European customers," said Roelant de Waard, vice president, Marketing, Sales and Service, Ford of Europe. "The first combination of our award-winning EcoBoost 1.0-litre engine with PowerShift dual-clutch automatic transmission is a major step forward in this segment and will appeal to many new customers – especially those looking for the latest cutting edge technology."

The 1.0-litre EcoBoost engine combines cutting-edge technologies including direct fuel injection, turbocharging and variable valve timing to deliver the power of a larger engine with the fuel efficiency of a smaller engine; from a three-cylinder engine block small enough to fit into the overhead luggage compartment of an aeroplane.

Sales of Ford's new B-MAX compact MPV equipped with PowerShift automatic transmission grew 10 per cent during the 12 months up to and including September this year. During the same period, Ford Kuga, Mondeo, S-MAX and Galaxy all recorded increased demand for automatic transmissions.

The new Fiesta also features dynamic exterior and interior styling with benchmark design, craftsmanship and ergonomics, in addition to optional Active City Stop, which helps drivers avoid low speed collisions.

Also available in Fiesta is Ford's SYNC voice-activated in-car connectivity system featuring Emergency Assistance, which can alert local emergency services operators to an accident in 26 languages, spoken in 40 European regions.