Ionian Villas enhances 2014 programme with villas for larger parties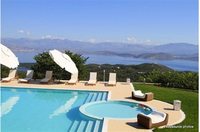 Ionian Villas, booking agent for luxury villas in the Ionian Islands, has added 10 new properties to its portfolio for 2014 – seven of which cater for parties of up to 16 – taking the total number of villas to 140.

What stands Ionian Villas out from the crowd is that the company inspects every property and knows every owner personally.
Comments David Watrous, Managing Director of Ionian Villas: "It is difficult to find villas for two people and for parties of over eight. We offer a variety of properties for different party sizes but we have now added some rather special larger villas on five of the Ionian islands; large properties are rare and early booking is advisable.
"We employ the services of a knowledgeable but unobtrusive British manager on each island to help with whatever special arrangements might be needed such as bespoke hampers, a local chef to prepare the occasional dinner, local taverna dishes delivered to the villa, speedboat transfers and a 24-hour point of contact for any help or advice."
Here is a brief summary of the new, larger villas:
Kefalonia: Efkalyptos is a six-bedroomed (6 bathrooms) property sleeping 16 with views over the sea to Zakynthos and close to the sleepy village of Spartia. It has a large private pool and a tennis court. The sandy beach is 2 minutes' drive away. From £3474 per week (£217 pp).
Corfu: Villa Susanna is a six-bedroomed (7 bathrooms) property with private pool and tennis court, sleeping 14, spread over three floors. Located on the north east corner of the island, it has views over the sea towards Albania and the Greek mainland. From £4320 per week (£308 pp).
Lefkas: Villa Chrissa is located between Lefkas Town and Nikiana on the East coast. The five-bedroomed property (5 bathrooms) sleeps 10 people, and rooms open out on to wide balconies and terraces with views across the sea to the Greek mainland and towards Nidri Bay. From £3260 per week (£320 pp).
Paxos: Kiparissa is a large six-bedroomed property (all en-suite) close to the little village of Fontana. The 18th Century property has been cleverly renovated to provide 3 self - contained apartments. In June, July and August, Kiparissa is let as a whole. The apartments are available separately at other times. From £2730 per week (£228 pp).
The other new properties in the Ionian Island portfolio for 2014 are:
Corfu: Villas Polyxeni and Manor House, both sleeping 10 people
Lefkas: Villas Katerina and Helena sleeping 8 and 10 respectively
Paxos: Villa Samantha and Paxos Sunset both sleeping 10 people
Ionian Villas also offers properties on the islands of AntiPaxos, Ithaca and Meganissi.
To book or to view the complete range in the Ionian Villas portfolio, visit ionian-villas.co.uk.