Home Alone voted best Christmas movie ever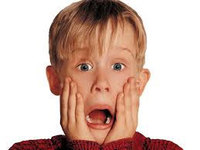 Home Alone has been named as the number one Christmas film of all time, a new survey has shown. The 1990 family favourite sees Macaulay Culkin as the inventive youngster left to defend the family home from two hapless crooks.
And the antics of Kevin McCallister beat traditional golden oldies It's a Wonderful Life and White Christmas to the title of Britain's favourite Christmas film.
The research, which was conducted by TalkTalk TV to mark the launch of its Essentials TV, broadband and phone package, found the average Brit will take in thirteen Christmas films this December.
The study of 3,000 people also showed more people will be tuning into Coronation Street than The Queen's Speech on Christmas Day this year.
Children's classic The Snowman continues to warm the nation's heart and finished high on the list of films, while the charming Miracle on 34th Street rounds off the top five.
The lure of romance proves appealing to Brits at Christmas time with Love Actually making it into the top ten, while the inimitable performance of Will Ferrell in Elf proves a modern festive classic.
Tristia Harrison of TalkTalk said: "Christmas TV is the best TV of the year and there's nothing better than settling down to enjoy your favourite festive film with friends and family.
"With such a wide choice of TV programmes, specials and blockbusters available during the celebratory season, we're spoilt when it comes to deciding on what best to watch.
"TalkTalk TV offers a huge selection of shows, movies and box sets on demand and at great value to keep the whole family entertained this festive period."
The study of our festive TV preferences also showed that while men look forward to watching Only Fools and Horses and Doctor Who, their other halves prefer to put their feet up to watch a bit of drama with Downtown Abbey and Mrs Browns Boys.
Research revealed men tend to prefer comedy when it comes to festive viewing, while women leaned more towards the romantic Christmas magic.
Such is the nation's devotion to the screen that 74% said that they didn't feel Christmas had truly arrived until they have seen their favourite Christmas movie.
The study showed that one in four of us are likely to rush Christmas dinner, skipping the Christmas pud and cracker jokes so we don't miss out on one of the Christmas classics or much anticipated Christmas specials.
Nations top 10 Christmas movies:
1. Home Alone
2. It's a Wonderful Life
3. White Christmas
4. The Snowman
5. Miracle on 34th Street (1994 version)
6. Love Actually
7. Elf
8. Santa Claus: The Movie
9. The Wizard of Oz
10. A Christmas Carol