Yukon: Trails worth exploring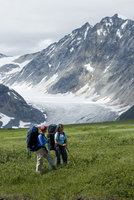 In Yukon, you can hike over history, through a UNESCO heritage site jewel and even into an oxymoron... mountainous tundra. And you'll never forget the thrill. And this is no 9 to 5 experience. Under the midnight sun of summer, the lights are on almost 24 hours a day so there are things to do and see long after you've run out of the strength to do them.
The Chilkoot
Have you ever crossed through four eco zones in a few days? You can on the 53 kilometre Chilkoot Trail. The Trail starts near Skagway, Alaska and meanders along the Taiya River through the lush Pacific Rainforest providing magnificent glimpses of the towering Coastal Mountains. Even a couple of glaciers. Treeline is at about the 22 kilometre mark where the verdant spruce forest is beaten into submission by a rock and brush world of astonishing beauty. It's a little intimidating here because you can now see the journey ahead, onwards and upwards and upwards through the chink in the mountain battlement called the Chilkoot Pass. Here, it is Alpine pure and simple: rugged and exposed with exhilarating views of unending snow-clad peaks.
Now, drop down through the pass and its water, water everywhere ... and every drop to drink: lakes, rivers and streams, braided and rushing from the snowfields that still cling to the surrounding mountain crevices well into the summer. And it's the flowers, colourful and delicate alpine jewels that will stop you in your tracks.
And then it's into the Boreal Forest of pine, spruce and poplar and the winding journey downwards to the two big lakes at the base. Sound great? It is, but try doing it while carrying a ton of provisions on your back. That's the way the Klondikers had to do it more than 100 years ago. Countless trips throughout the frigid winter to get their food and gear over the top before breakup and the mad race to get to the goldfields to stake their claims and assure their fortunes.
It didn't happen for most. Many couldn't take the Pass and turned back; many foundered on the 644 kilometre trip on Yukon River to Dawson City; some got there too late to stake; many worked hard for nothing. But that's a detail. When the cry of 'Gold' rang out, it was like a shot from a starting gun. In 1898 they were off and Yukon was born.
The Chilkoot Trail is a unique and unforgettable journey with a story that asked: Are you tough enough? Well, are you?

Kluane National Park
Canada's tallest peak is in there, so are 5 peaks over 4,500 metres, so is the greatest accumulation of glaciers outside the polar regions, so are a bunch of bears, caribou, moose, wolves and foxes, so is one of the most daunting white water rivers on the planet.
"There" is Kluane National Park. With 22,000 square kilometres it is Canada's largest national park and a prominent member on the list of UNESCO's World Heritage Sites.
What aren't in there are operational roads or infrastructure of any kind. No, Kluane National Park has been left in peace for our soul.
There are three ways to visit it. Fly over it to get a sense of the unimaginable scope of its icy, mountainous interior; day hike its perimeter or load up your pack and head on in.
Day hikes abound. They range from an hour to a full day and can take you along rivers, through forests or up mountains. All hikes have been selected for their unique beauty: an alpine lake, a rock glacier, an alpine cirque, a mountain meadow, views into the 4,500 metre Icefield Ranges, opportunities to see wildlife.
But the longer hikes appeal to many. Take the Cottonwood, for instance. On its 83 kilometres, you travel through spruce forests, trip over two mountain passes, stroll through open alpine meadows and challenge daunting creeks that require as much imagination as courage to cross.
So what's the point? Well, you're in untamed nature, magnificent to look at, challenging to face, inspiring to feel and there's a good chance you'll see who you're sharing it with: Dall sheep, mountain goat, grizzly and black bear, ptarmigan, owl and moose. To understand, you kind of have to be there.
And then there are the forays deep into the park where you may walk where no one has stepped before. You'll need licensed guides for these but we have them, leaders who have the knowledge and expertise to help you understand why Kluane is considered one of the preeminent nature parks on the planet.
Tombstone Territorial Park
Yukon, about the size of France, is part mountains, part boreal forest and part tundra. All these environments crash together in wonderfully scenic confusion in Tombstone Park, visible from the Dempster Highway, the road that leads over the Arctic Circle to the Arctic Ocean.
Tombstone Park offers a land like no other. While just a few miles north is a land referred to as Beringia, the only area in much of North America that wasn't under ice during the last Ice Age 10,000 years ago, the granite Tombstones have been scoured by ice and weather into stalagmite-like peaks and pinnacles that rise high from the tundra carpet.
So here, amidst the mountain majesty, are ridges, valleys, passes, meadows, lakes and creeks. But it's also the minerals and plants and bird and animal life that fascinate. And all amid an endless carpet of tundra that changes colours with the season. This is one of a kind.
Exploring Tombstone Park can involve anything from short hikes off the highway, to long backpacking and mountain climbing trips in the back country. There is one established trail, Grizzly Creek, which is the quickest way into the core of the Tombstone Range. The trail stops at Grizzly Lake where tent pads, cooking station and an outhouse are provided for visitors. The rest of the Park has no established trails into the back country. However on some well-travelled routes, sections of trail can be found, but in general, travel in the park will be a challenge to your orienteering skills.
Discover the World offer a new 13 night 'Hiking the Yukon and Alaska' small group tour beginning in May 2014. Prices start at £2,557 (land only) per person
For more information, visit discover-the-world.co.uk.