New online link for Westcountry apartments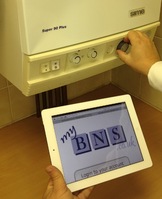 Thousands of people living in residential apartment blocks in the Bristol area are now able to report any problems with their property and manage their household affairs from a mobile phone or tablet.
Some 200 residential blocks managed by BNS Management Services in Bristol, Weston-super-Mare and Portishead can now use the system to notify their Managing Agent of issues at their property.
BNS Management Services, introduced the communication tool two years ago and now the second generation has been developed with enhanced features, including the ability to operate from ipads and mobile phones.
Leaseholders and tenants can use touch screens to report problems with maintenance, door entry systems, television signal, standards of service and even blown light bulbs in the apartment blocks in which they live or own.
Other residents and the property management company can see what has been reported and track the way it is being dealt with.
MyBNS is also being improved to enable greater access to accounting information for leaseholders in an apartment block so that they have greater control over budgets. The system enables all parties to see how problems are being resolved and obtain access to the most recent inspection reports at the properties in which they live or invest.
BNS Management Services, based in Downend, Bristol developed the system and has introduced it across all of the properties under their management.
Andrew Simmonds, BNS Managing Director, said: "When MyBNS was first introduced most people wanted to manage their properties on a PC or a laptop. It shows how quickly technology is moving in that today most people want to use a tablet or mobile.
"We have introduced a much more user-friendly interface and there are a lot of back office changes that have been made in this second generation of the system.
"It makes managing a property much more transparent and for BNS means that we can communicate with all residents in one block under one feed, saving everyone time, telephone calls and hassle. In addition it means that we can be held to account by the people who live or have invested in the blocks we look after. "
MyBNS is unique in the UK and the software is being continually developed by BNS Management Services in-house software team headed by John Alcock. Apartment blocks are inspected regularly and reports of those inspections will automatically be placed on the system in order for all owners and residents to see live data and information.