Food and Drink in the Azores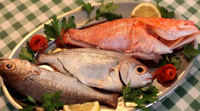 Although there is some tastes common to the whole archipelago, each island's recipes have their own character.
Fish and Seafood
Fish such as tuna, blue jack mackerel, chub mackerel, forkbear, red porgy, and swordfish are very commonly. There are lobsters, Mediterranean slipper lobsters, crabs, spider-crabs and barnacles. Limpets are served grilled, with Molho Afonso sauce or are cooked in rice or mashed bread. The island of Sao Jorge is the only island that offers clams.
Meat
Azorean beef produces dishes such as the Alcatra (rump) from Terceira island, plus boiled beef and regionally-flavoured steaks. Liver sauce cracklings and sausages are must haves, whilst linguiça can be the main course if served with taro root. Blood pudding is often an appetiser when complemented by pineapple.
Special Dishes
Cozido das Furnas, made with various meats and vegetables, is cooked by geothermal heat in a pot that is placed under the ground. Some delicacies are common during the Holy Ghost Festivals, such as the Sopa do Espírito Santo (Soup of the Holy Ghost) and the Massa Sovada (Portuguese sweet bread). The bread known as bolos lêvedos, typical of Furnas, is served at any time throughout the whole year.
Cheese
Queijo de Sao Jorge is at the top of the list of tasty cheeses, with skilled hands and ripening time being the secret behind its myriad of tastes and textures. When cheese is served for dessert, it can be complemented by bananas or husk tomato jam (the husk tomato is known for its exotic and perfumed flavour).
Fruit
In addition to bananas and apples, the Azorean climate favours exotic fruit such as the strawberry guava and the cherimoya. The pineapples and passion fruit of Sao Miguel are also highly regarded.
Drinks
Wine is produced on the islands of Pico, Graciosa and Terceira, but from different grapes and complementing the once famous verdelho wine. Beer, soft drinks, fortified wine, fruit liqueur, and brandy complete a diversified offering. Tea is planted on the island of Sao Miguel, adding another exotic taste to the pleasures of the Azorean cuisine.