Staying at Samara - Time to experience a little bit of heaven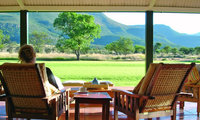 Situated in a place where time stands still, Samara Private Game Reserve offers unique wildlife and spectacular Karoo Mountain scenery. This beautiful South African Eastern Cape reserve provides a tranquil escape to soothe the soul and uplift even the weariest traveller as you gaze across the vast open spaces and stunning terrain reaching to far distant horizons.
Home to a growing abundance of African wildlife, including a large number of diverse endangered species, Samara introduces guests to the elusive cheetah and the friendly aardvark, as well as many other animals, birds and a huge variety of flora. You will always be guided by an expert ranger, whose in-depth knowledge brings everything to vibrant life. Interacting with these amazing creatures is unforgettable – standing only a few feet from the highly endangered wild cheetah is an unparalleled and humbling experience.
Karoo Lodge
Combining colonial luxurious comforts with the essence of Mother Nature, the Karoo Lodge treats you to exceptional service, enabling you to relax and allow the tranquillity of the Karoo Mountains to envelop your soul.
The Lodge Suites are situated in the main homestead and are light and airy, all opening out on to the wide wrap-around veranda. Each has a luxury en-suite bathroom and is air-conditioned. One extra bed can be accommodated for families with a child. The Karoo Suites are individual Karoo style 'cottages' in the garden offering a bit more privacy. Each has a luxury en-suite bathroom, is air-conditioned and has a fireplace. They even have outdoor showers with magnificent views!
The Sibella Suites are two delightful suites each with an en-suite shower and sharing a wooden deck overlooking the waterhole with abundant birdlife. They are both air-conditioned.
There are two spa treatment rooms at the Karoo Lodge for some much-welcomed pampering, plus an outdoor swimming pool and tennis court.
The Manor House
The Manor at Samara is for the exclusive use of up to 8 guests in ultimate luxury and total privacy with every whim catered for by the friendly but unobtrusive staff. Mark and Sarah Tompkins built the Manor on the site of an old house with title deeds dating back to Lord Charles Somerset, Governor of the Cape Colony until his death in 1831. The Manor House is available for rental when the Tompkins family are not in residence.
You will arrive at this historic homestead and witness truly breathtaking views of the extraordinary Karoo mountain landscape, which unfolds over a 21m infinity pool, which leads to a waterhole at which game often arrives in the early morning and late afternoon.
The Manor is unique with its warm design which reflects the local landscape and traditions with a stylish contemporary twist. You can relax in four spacious luxury air-conditioned suites. Beds are made using the softest linen that lulls you to sleep and all suites have large en-suite bathrooms with separate showers and free standing baths.
Unwind in the large comfortable lounge where a crackling fire burns in the winter months and the large glass doors to the patio are cast wide open in the summer. Take time to read an interesting book from the library in the cosy reading nooks.
The Mountain Retreat
Secluded, wild and remote, Samara's Mountain Retreat offers you the opportunity to re-connect with nature in its purest form. The Mountain Retreat is an exclusive use venue accommodating up to 10 guests. There are three luxurious double en-suite bedrooms in the main homestead and a further two en-suite bedrooms are in the beautifully restored Victorian barn. A comfortable living room with fireplace and dining room complete the indoor facilities. A wide wrap-around veranda provides the perfect area for relaxing while contemplating the awesome view and the Jacuzzi there is an ideal cooling-off spot.
Take leisurely walks to explore the ancient valley landscape where rare rock art paintings of cheetah are preserved. Guests will be accompanied on walks by an experienced ranger who will be able to point out all the little things you may miss on a game drive. Game drives are an optional extra.
The Mountain Retreat is the perfect getaway for a family or group of friends wanting to escape from the hustle and bustle and rediscover a slower pace, while experiencing a truly magnificent wilderness.
For further information, visit samara.co.za.