Limited edition Led Zeppelin Jeep Patriot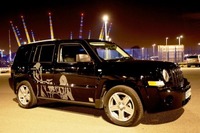 RGVA, UK vehicle branding company, have launched the Limited Edition Led Zeppelin Jeep Patriot. Just seven of these exclusive 4x4s will ever be sold, each boasting a full range of refined extras, as well as stunning graphics that pay a wonderful tribute to one of the most highly regarded and documented bands.

To celebrate taking ownership of these remarkable pieces of history, RGVA are also providing 2 VIP TICKETS to see Led Zeppelin live at the O2 on Monday 10/12/07. The tickets will include a champagne reception and access to the after-show party at the O2 to complete the package.

Ian Calderwood, designer of the graphics that adorn the Jeeps said, "This is a great opportunity for true fans of one of the world's greatest bands to own a piece of history. We really want to celebrate the concert at the O2 in style, and we're pleased to be able to entertain the new owners at the event."

When asked about the design, Ian commented, "The Jeep was chosen for its American ruggedness. The graphics complement the bold character of the car, whilst maintaining its prestige and I feel it reflects the personality of the band excellently."

Head of Sales & Marketing for RGVA, Alison Smith, said, "This is an exciting project to be involved with. It combines a rare chance to see one of the world's greatest bands, as well as a lasting souvenir of the event. We're really looking forward to seeing who the new lucky owners will be!"

Demand for tickets to see Led Zeppelin has reached incredible levels, with the event promoters reporting 20 million applications for just 18,000 tickets.

Led Zeppelin were one of the biggest-selling rock groups of the 1970s, best known for songs like Whole Lotta Love and Stairway To Heaven.

Their last concert was in Berlin in 1980, two months prior to the death of drummer John Bonham.

The brand new Jeeps are available to purchase this week only for £34,860, and are the 2.0 CRD Sport editions, with Air Conditioning, Cruise Control, Two-Tone leather, privacy glass, 6-speed manual gearbox, Remote Central Locking, 4x Electric windows and a premium sound system.