It's not what I expected - Unusual holiday destinations for travellers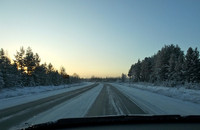 Keen travellers will understand the thrill of a new destination, particularly if that destination is something of an undiscovered treasure. Even in the modern world, where international travel is a daily occurrence, there is still a myriad of hidden gems waiting for wily travel junkies to discover them. Here are a few ideas if you're looking for some hot holiday tips for 2014.

Transylvania, Romania

We all know the legend, so why not experience the place? While ultimately finding notoriety from its connections to the Dracula story, there's a whole lot more to Transylvania than just some spooky tourist attractions. Visitors can hike the Carpathians in the summer, ski the Bucegi Mountains in winter and explore the beautiful Retezat National Park.

Lapland, Finland

While the majority of people will know Lapland as the slightly less arctic home of Santa Clause, it has much more on offer besides elves and festive snowdrifts. Anyone heading off on a Lapland trip in 2014 has a spectrum of fantastic attractions available, including the phenomenal Northern Lights that grace the skies most evenings. You can also enjoy a husky or reindeer safari, and indulge in the ultimate sauna experience on the Ylläs sauna gondola. Be aware, though, that temperatures can drop as low as -30°C in the winter!

Roswell, USA

Anyone who really believes the truth is out there should certainly consider a trip to Roswell. Around July 4th 1947, an aircraft of some sort crashed into a ranch. Since then there have been dozens of theories as to what it was, the most famous being that this was in fact an extra-terrestrial craft containing alien life forms. There are tons of alien-themed museums and shops to keep you busy, and if you head over in July you can take part in the famous UFO festival!