Canned Food UK will keep you warm and healthy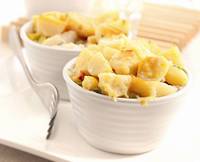 The UK weather has taken a turn for the worse recently, so now is more important than ever to keep warm and healthy, especially for those of us that are more vulnerable and frail. One way to do that is by ensuring you eat meals that will give you energy throughout the day.
Canned Food UK has lots of recipes that are not only healthy for you – providing you with the nutrients you need – but will also help to banish the winter cold away. Take, for example, our Fish Pie. This hearty dish contains haddock, and if you add in an oily fish, such as Salmon, its benefits only increase. Salmon is high in protein, and its high concentration of omega-3 fats and B vitamins can boost your cardiovascular health, helping to prevent coronary heart disease, high blood pressure and the risk type-2 diabetes.
As well as oily fish, starchy vegetables, such as pumpkin and squash, as well as beans and pulses, also help to slowly release energy throughout the day and our Pinto and Pumpkin Casserole recipe, throws all these ingredients together to create a delicious meal. The use of canned vegetables, beans and pulses are good sources of fibre, which help promote good digestion, as well as lowering blood cholesterol levels and stabilising blood sugar.
Another benefit of using canned food in your cooking is the fact that it is convenient, for example, there's no need to soak pulses and beans before hand – you can use straight from the can. It's also cost effective option for anyone on a budget, which is helpful during winter, as heating bills can often rocket at this time of year. What's important to remember however, is that using canned food doesn't mean you have to compromise on quality or nutrition, as vitamins and nutrients are locked in the can naturally, without the need for any preservatives.
For further meal ideas to keep you healthy and warm this winter, visit cannedfood.co.uk, where there's also plenty of advice on the nutritional value and benefits of a variety of canned food. Alternatively, if you'd like a little guidance when creating some of these new recipes, the online Canned Food UK cooking channel provides step-by-step video demonstrations by celebrity chef and Canned Food UK ambassador James Martin. Visit youtube.com/cannedfooduk
Recipes:
Fish Pie
Serves 4
Ingredients
250g cod or haddock fillet, skinned
150g smoked haddock fillet, skinned
200ml milk
1 x 295g can condensed mushroom soup
1 x 198g can sweet corn
1 x 300g can peas
4 tbsp freshly chopped parsley
freshly ground nutmeg (optional)
juice of ½ lemon
freshly ground black pepper
1 x 820g can potatoes, drained and cut into quarters.
125g cheddar cheese, grated.
Method
1. Preheat the oven to 190°C/375°F/Gas Mark 5.

2. Lay the fish in a large frying pan and pour over the milk. Cover and bring slowly to the boil. Simmer gently for 5-7 minutes or until the fish flakes apart. Remove the fish and place into one large ovenproof dish or four individual dishes.

3. Add the soup to the milk and heat gently until thoroughly combined.

4. Add the sweet corn, peas, parsley, nutmeg (if using), the lemon juice and pepper, and pour over the fish.

5. Place the potatoes on top of the fish and scatter with cheese.

6. Bake for 25 minutes or until the potatoes are beginning to turn golden and the fish filling is hot and bubbling.
Nutritional value per serving
Calories: 417
Carbohydrate: 33.8 g
Protein: 33.5 g
Fat: 17.4 g
Saturated fat: 8.2 g
Fibre: 2.8 g

Pinto and pumpkin casserole with a Cheese and herb crust
Serves 4
Ingredients
500 g (1 lb) pumpkin (or butternut squash), peeled, deseeded and chopped
2 tablespoons (30 ml) extra virgin olive oil
1 large red onion, chopped
2 garlic cloves, crushed
1 red pepper, de-seeded and diced
1 green pepper, de-seeded diced
1 teaspoon (5 ml) dried basil
1 x 400 g can vegetable soup
1 x 420g can pinto beans, drained
2 tablespoons (30 ml) lemon juice
1 tablespoon (15 ml) fresh parsley, chopped
Cheese and herb crust:
1 small baguette
2 tablespoons (30 ml) olive oil
1 tablespoon (15 ml) fresh thyme, chopped
2 tablespoons (30 ml) fresh parsley, chopped
85 g (3oz) Parmesan, grated
Method
1. Place the butternut squash in a large pan with about 600 ml (1 pint) water and bring to the boil. Reduce the heat and simmer for about 15 minutes until tender. Using a hand blender or food processor, puree the pumpkin with the cooking liquid so that you have a fairly thin puree.

2. Heat the olive oil in a large pan. Add the onion, garlic and peppers and cook over a moderate heat for 5 minutes.

3. Add the basil, canned soup and canned beans. Bring to the boil, stirring, and then simmer for 10 - 15 minutes. Stir in the pumpkin puree, lemon juice and parsley. Spoon the bean mixture into a baking dish.

4. To make the crust, cut the baguette into thin slices and brush with olive oil. Arrange on top of the bean mixture and scatter over the herbs and Parmesan.

5. Place the dish under a preheated hot grill for 4 – 5 minutes until the bread is golden brown and crisp.
Nutritional value per serving
Calories: 525
Protein: 22 g
Carbohydrates: 67 g
Fat: 20 g
Saturated Fat: 6.1 g
Fibre: 5.8 g