New independent travel tours put Chile on the adventure map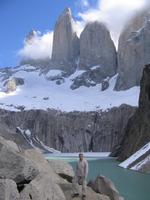 Independent travellers looking to get off the beaten track in South America can now add Chile to their exploration list, with Chile revealed as Rickshaw Travel's seventh Latin American destination.
Previously only available as a potential add-on for guests already booked onto one of their Argentinian adventures, the travel specialist now offers a choice of ten private tour options plus one action-packed three-week wonder taking in Chile's contrasting landscapes.
From the world's driest desert at its north to the snow-covered mountains of Chile's glacial south, and with the natural borders of the towering Andes to the east and the Pacific coast to its west, Chile may average just 110 miles in width yet stretches an incredible 2,600 miles.
Visitors to this slim-line land benefit as much from the extremely diverse natural attractions on proud display as the wide range of activities they offer up and, to help travellers take in the best of Chile in less than three weeks, Rickshaw Travel has introduced a 16-day tour called Through Volcano Valleys to National Parks.
Taking in three of the country's dramatically different climate zones, the self-drive trip begins amidst the vineyards of the Maipo Valley before flying south to the Chilean Lake District. After drinking in the lunar landscapes and volcanic skylines, the tour heads further south still to Punta Arenas, the nation's southernmost city and the gateway to Chilean Patagonia. Amongst the tour highlights are the chance to visit a penguin colony by boat and hike to panoramic viewpoints, all set against the picturesque ice-white backdrop of the Torres del Paine National Park. The adventure ends in Valparaiso, with a city tour to fully appreciate its charms and the option of a cooking class to help holidaymakers replicate the local cuisine long after the holiday has ended. Prices start from £2,188pp based on two people sharing, including standard accommodation, some meals and excursions, transfers and hire car or £2,588pp based on upgraded accommodation options.
For those with less time to spare or keen to create their own adventure story, Rickshaw Travel also offers 10 bite-size modules to choose from. This range of bite-size travel experiences have been designed to ensure holidaymakers can put together their perfect holiday in Chile. Options include the chance to take a break amongst the vineyards (3 days), experience the surreal desert expanse of the Atacama on the 3-day llamas on the moon option, go zigzagging through volcano valleys (6 days) or even escape from the mainland to discover the mystical moai (statues) of Easter Island (4 days).
With Patagonia also becoming established as a trekking Mecca, Rickshaw's newest module ensures active travellers can take full advantage of the Torres del Paine mountain magic.
The new 6-day Trekking the Mighty Torres mini adventure takes in the iconic 'W Trek' and is designed with true hikers in mind. This world-famous classic 4-day trek along the park's spectacular mountain paths takes its name from the shape the route takes as it zigzags its way past aquamarine lakes, snow-capped mountains, gleaming glaciers and cascading waterfalls. With daily treks of up to 7 hours per day rewarded with panoramic scenes, this module is ideal for those looking to inject a touch of adrenaline into their Chilean itinerary. Prices start from £515pp based on two people sharing, including five nights accommodation in simple guest houses and basic 'refugio' rooms (including bedding), breakfast in Puerto Natales and transport.
Haydn Wrath, MD of Rickshaw Travel, said: "Over the last few years we've certainly noticed travellers becoming increasingly keen to make the most of their South American experience by adding on a few days in Chile after holidaying in Argentina. With so many geographical wonders and vibrant cities to explore, we hope that our new range of travel options will highlight the extreme beauty of this country and encourage more holidaymakers to choose Chile for their next adventurous escape."
For a full range of modules and itineraries to Chile, visit rickshawtravel.co.uk.