Ford Fiesta tops list of scrapped cars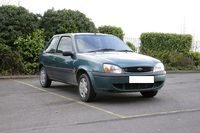 The Ford Fiesta has faced the crusher more than any other car in the UK over the last 18 months, according to exclusive figures released by nationwide vehicle removal specialist Remove My Car.
The highly popular model tops the list after being scrapped a whopping 1,691 times over the last year and a half, ahead of the Vauxhall Astra, 1,544, and the Ford Mondeo, 1,439.
The two other cars to make the top five are the Renault Megane and the Vauxhall Corsa, scrapped 1,238 and 1,234 times respectively.
Remove My Car, which works with a network of Authorised Treatment Facilities (ATFs) across the UK, calculated how often each make and model of car has been scrapped by extracting figures from its database, which began in May 2012 to find the Fiesta come out on top.
Steve Queen, owner of Remove My Car, explains why. "Typically Ford Fiestas are a very popular model of car to buy second-hand meaning they will pass through a number of owners in their lifetime. They're often used almost constantly from the day they come off the production line, resulting in worn components and parts," he said.
"With more people now finding themselves in a position where they can buy newer cars, and with increasingly manageable finance options, we're finding that more and more older cars, like Ford Fiestas, are being scrapped. Older cars are more likely to incur costly repair prices and often it makes financial sense to scrap them to generate funds that can go towards buying a new vehicle."
There are other interesting revelations from the data, including the fact that just a single Volkswagen Touareg, a car introduced only 12 years ago, was sent to be scrapped, as well as a solitary Range Rover. This indicates that cars over 15 years old are typically being sold for scrap.
Ford has sold over 16 million of its Fiesta series since 1976, making it the third most bought Ford model of all time, behind the Escort and the F-series; a pick-up truck popular in America. The Fiesta has been produced all across the world, from Europe to Venezuela.
Steve Queen believes that safety plays a big part when it comes to a driver deciding to scrap their car: "It's important to note that it's potentially very dangerous to drive old cars in bad weather, as their tyres and brakes often struggle in wet and icy conditions. With the extreme winter weather this country often experiences, people are rightly deciding to take that risk away and invest in a newer and ultimately safer car."