Olive oil taste bud frenzy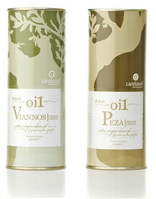 Last summer was one to remember in the UK, not only did Andy Murray win Wimbledon, but we finally saw some sun, having one of the warmest summers on record. However, whilst the UK was basking in sunshine, on the Greek island of Crete unfortunately the weather conditions weren't so favourable, especially for those farming one of the islands biggest exports olives. The warm weather was interspersed with the odd downpour and strong dusty winds from the Sahara desert, which, as well as being an occasional nuisance for holiday makers, also played havoc with olive harvests to…

Cretan olive oil experts are predicting harvests to be down as much as 60% on the year before, which could have a knock on effect on the amount of olive oils from Crete hitting our shelves this spring. That said the same experts also believe that this year's olive oils could be some of the best we've ever tasted, thanks to the unique variety of trees they have on the island, as farmer Michail Lyronis explains…
"Here in Crete, whilst the quantity of olives we have harvested is down due to the weather conditions, the quality hasn't been affected. We are lucky due to the types of trees we have here on the island, like the Koroneike, a hardy tree which has survived since ancient times and that is used to variations in the weather. What's more, they are renowned worldwide for producing one of the highest quality olive oils available.

We knew they were going to make good oils, but when we tried the final result recently we were blown away – this year's harvest has to be the tastiest oil we've ever produced."

There are a few Cretan olive oil brands now available on UK shelves. If you want to find out for yourself what the 2013-14 produce tastes like try oi1 Viannos or Peza from Tesco stores from March onwards.