Ford Fiesta 1.0L EcoBoost gains six speed PowerShift auto transmission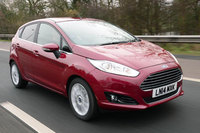 The Ford Fiesta continues building on its position as the UK's best-selling car with the launch of two new powertrains available for this month's 14-plate.
Ford now offers a 100PS version of the 1.0-litre EcoBoost engine with the company's advanced, six?speed dual-clutch PowerShift automatic transmission – delivering CO2 emissions of 114g/km* and 57.7mpg fuel consumption.

The Ford PowerShift transmission uses electronically controlled twin-clutch technology to shift between gears. Drivers have the option of using a full automatic mode, a sport automatic mode or selecting gears manually.

The 1.0?litre EcoBoost engine combines cutting-edge technologies including direct fuel injection, turbocharging and variable valve timing to deliver the power of a larger engine with the fuel efficiency of a smaller engine. It accounts for over 40 per cent of Fiesta sales in the UK.

Also new to the Fiesta range is an 80PS 1.0L petrol engine, which shares some of the EcoBoost technologies, delivering CO2 emissions of 99g/km* and 65.7mpg combined fuel consumption.

The Ford Fiesta range now features six powertrain options which emit less than 100g/km CO2*, and includes the 1.0-litre EcoBoost, "International Engine of the Year" for both 2013 and 2012.

Mark Ovenden, Ford of Britain Chairman and Managing Director, said: "The automatic gearbox is an important addition to our range for a large number of Fiesta fans. The combination of EcoBoost and PowerShift is one of the most advanced and dynamic powertrains ever launched in a small car"

* The declared fuel consumption and CO2 emissions are measured according to the technical requirements and specifications of the European Regulations (EC) 715/2007 and (EC) 692/2008 as last amended. Fuel consumption and CO2 emissions are specified for a vehicle variant and not for a single car. The applied standard test procedure enables comparison between different vehicle types and different manufacturers. In addition to the fuel efficiency of a car, driving behaviour as well as other non-technical factors play a role in determining a car's fuel consumption and CO2 emissions. CO2 is the main greenhouse gas responsible for global warming. Results in MPG also correspond to this European drive cycle and are stated in imperial gallons. The results may differ from fuel economy figures in other regions of the world due to the different drive cycles and regulations used in those markets.