Five star holidays for horses in stunning Anglesey surroundings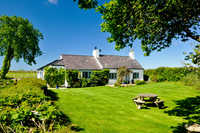 The dream of a five star riding holiday has finally become a reality for horse owners with the launch of "Holidays for Horses" in Anglesey, a new holiday destination combining professional standard stable facilities with luxurious five-star-graded, self-catering accommodation.
Set in an area of outstanding natural beauty a few hundred metres from White Beach Cove near Beaumaris, this magnificent holiday hideaway provides the use of six beautifully appointed stables and a full range of high quality equestrian facilities and equipment, alongside a beautiful cottage.
"Holidays for Horses" has been launched by White Beach Holiday, a local family run company that has been offering top-of-the-range holiday accommodation on the island since 2006.
Designed as a complete home from home, Holidays for Horses offers full use of 'The Cottage', a popular property in the White Beach Holiday portfolio and one that has been awarded coveted five star status by Visit Wales.

The Cottage offers luxurious living accommodation including two double bedrooms, a master bedroom with en-suite, a second bedroom and a single bedroom crog-loft. There is also a fully equipped kitchen, dining room, living room, conservatory, bathroom with steam room and a utility room.
Every need has been catered for, with high quality linen, the full Sky package including access to over 1000 movies via on demand, a Smart 3D TV, Wi-Fi, printer and an espresso coffee machine.
Surrounding The Cottage are secure and well-stocked gardens, a pretty patio area for al fresco dining and a relaxing hot tub. But what really sets this accommodation apart from the rest is its exceptional stable facilities.
As horse owners themselves, Holidays for Horses has provided everything an equestrian enthusiast may require. Available for use is a turn out, a horse walker with magnificent views over the sea, a grooming area with solarium for any necessary heat treatments, a rug room, tack room and feed room, barn with haylage, a wash room with horse shower and a 40m x 20m silica sand and rubber arena.

Holidays for Horses is been approved by The British Horse Society's "Horses Welcome" quality assurance scheme. This ensures all of its facilities are safe and continually maintained to a high standard, and by becoming a member of the scheme demonstrates the establishment's commitment to providing a genuine 'home away from home' for horses.
On site, the stables are protected by interior and exterior CCTV cameras allowing guests to keep a close eye on their horses from the comfort of their own accommodation or their smart device. There is also access to reliable and trusted local practitioners should any horses require treatment during their stay.
Guests at Holidays for Horses can spend their days exploring the Anglesey and Snowdonia countryside and coastline and recommendations for top riding routes are provided by the owners. The cottage and its facilities are dog friendly, opening up the opportunity to enjoy coastal walks as well as rides. Beautiful locations to explore include Llanddona Beach, Red Wharf Bay, Anglesey Coastal Path and the Newborough Forest Area. A 'helmet-cam' is offered for guest use so that riding adventures can be filmed for posterity and a sat nav system is also available, helping guests navigate their wagons through the unfamiliar Anglesey landscape.
Julian Wood, owner of Holidays for Horses, comments: "For years, horse riders have been looking for the ideal holiday destination where they have the luxury of staying in five star accommodation but their horses are also well catered for with the latest in equestrian facilities.
"Horses are our passion and at Holidays for Horses the care and attention to detail we have invested in The Stables truly reflects this. It can be a huge responsibility to ask someone else to look after your horse whilst you're on holiday, so our solution is to provide a comfortable and safe environment for both owners and their horses, where they can combine a relaxing and enjoyable holiday with their love of riding."
For more information or to book, visit holidaysforhorses.com.