New venue website launched for weddings in stately homes & historic houses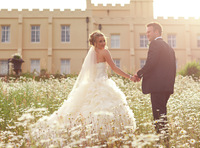 A new, comprehensive and unique weddings venue website has been launched enabling couples to find a stately home, historic house or country house hotel for their wedding. Run by Hudson's Historic Houses & Gardens, who have been providing information on the UK's historic houses & gardens for 27 years, the site is an essential source for finding some of the most grandest and beautiful venues in the country, many available on an exclusive use basis.
The website contains essential information about each venue which are located across the UK from Cornwall to Carlisle. Venues include Pentille Castle in Cornwall, Clovelly Village in Devon, Craig Y Nos Castle in Wales, Ragley Hall in Warwickshire, Blenheim Palace in Oxfordshire, Yaxley Hall in Suffolk, Castle Howard in Yorkshire and Kirklinton Hall in Carlisle to name but a few.
The website enables the user to search for a venue by region, county, town, minimum number of guests and bedrooms, whether the venue is approved for civil marriage and whether it offers wedding receptions. The user can then narrow down their search by deciding if they want the ceremony and reception together or by amenities such as exclusive use and disabled access.
Once the user has found a possible venue, they then can view further information about the facilities including numbers, accommodation and whether there are bedrooms onsite or details of rooms nearby, parking, costs, room lay-outs, the option to have a marquee, whether confetti and stiletto's are allowed and where you can even land a helicopter plus the ability to download the venue's wedding brochure. In addition the website also gives handy tips and hints about stationery, flowers, photography and wedding cakes.
Sarah Greenwood, Publisher at Hudson's, stated "We are delighted to launch Hudson's Heritage Weddings to help couples to find the wedding location of their dreams. We want to make sure that brides and wedding planners have all the information they need at their fingertips so that they can enjoy the sort of country house setting that has been intrinsic to the stylish British wedding for centuries".
Hudson's Heritage Weddings can be found at hudsonsweddings.com or stately-homesweddings.com.