Quark Expeditions introduces land-based arctic adventure program for 2015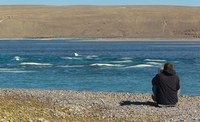 Quark Expeditions has introduced in its 2015 Arctic expedition line-up, their first-ever land-based adventure. Quark, in partnership with Arctic Watch Wilderness Lodge, will offer Arctic Watch Lodge: Adventure and Wildlife at 74°N, a week-long adventure camp experience beginning June 30 and running for six weeks through August 12, 2015. With a maximum occupancy of 26 guests per departure, it will be Quark's most intimate Arctic program as well.
Located just above the Arctic Circle on Somerset Island in Nunavut, Canada, Arctic Watch is a five-star wilderness lodge and world-class beluga whale observation site. It features private lodging for two, locally-sourced gourmet dining and plenty of fully-guided activities such as hiking, kayaking, river rafting and exploring the Arctic tundra in all-terrain vehicles (ATVs) and Mercedes Unimog. This will be a truly raw and untouched Canadian Arctic experience for nature enthusiasts around the world, all accessible within a short flight from Yellowknife, Northwest Territories.
"Quark is pleased to partner with Arctic Watch to offer our passengers a new way of experiencing the Canadian Arctic," said Hans Lagerweij, president of Quark Expeditions®. "Although new for Quark, this 10-day land program is a unique way to explore the untouched beauty and wilderness of the Arctic, and offers the same quality expedition product people know and trust from Quark, and will impress even the most discerning adventure travelers." Watch Hans' video about Quark's new land program.
Situated on Somerset Island, in Cunningham Inlet, the Arctic Watch Lodge is the most northerly lodge in Canada and offers plenty of opportunities for viewing incredible iconic Arctic animals like beluga whales, polar bears, musk oxen, Arctic fox and hares, ring and bearded seals, snowy owls, peregrine falcons and much more. Rated as the top beluga whale watching site on the globe, the belugas at the Arctic Watch Lodge were also featured in the BBC's Frozen Planet documentary on the Arctic.
"Partnering with Quark Expeditions is the perfect fit for Arctic Watch," said Richard Weber, owner of Arctic Watch. "Quark's expertise in all-things polar, as well as their understanding of what these wild and rugged environments offer, will ensure guests will have a truly authentic and personal Arctic experience."
How to Book

Price for the Arctic Watch Lodge expedition starts at £4,845 per person based on double occupancy. Flights not included.

For more information, visit quarkexpeditions.com.