Masterchef South Africa Tour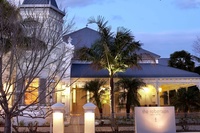 The TV show Masterchef is not only popular here in the UK but also many other countries around the world where they make their own versions including South Africa. To showcase the best restaurants and chefs that have been featured, Fleewinter has created a Masterchef South Africa Tour to the Western Cape and Cape Town.
The first five nights of the itinerary are spent in a smart two-bedroomed apartment on the V&A Waterfront, the central eating and drinking region of the city with a number of 'Masterchef featured' eateries including Charlys Bakery (specialist in cakes & other baked treats), The Creamery (superb ice-cream parlour), The Greenhouse restaurant and Le Moutte restaurant.
Moving on from Cape Town, the next two nights will be spent at La Fontaine, a four- star guest house at Franschhoek, the culinary capital located in the heart of the Winelands region, just over an hour's drive from Cape Town.
La Fontaine is just a short walk from over 100 shops bars and restaurants including Reuben's, one of the most famous 'Masterchef' restaurants in the entire region (Reuben was also a judge on the South Africa Masterchef).

Whilst in Franschhoek, Fleewinter recommends a visit to Monneaux Restaurant where Reuben began his career, and lunch at The Red Table, another restaurant where Masterchef was filmed.
From Franschhoek, a pleasant drive inland, the road flanked by mountains on both sides, takes you to the Robertson Wine Valley for the last two nights staying at The Robertson Small Hotel, which is also home to Reuben's other restaurant, Reubens@Robertson.
The holiday costs from £1329 pp (two couples travelling together) which includes return flights from Heathrow to Cape Town, nine nights' accommodation (plus four breakfasts and two dinners at The Robertson Small Hotel), a 500 Rand voucher for Woolworths (South Africa version of M&S and who are the official sponsors of Masterchef SA) and car hire.
Fleewinter can also tailor-make the tour, for example to include additional restaurant reservations, safari extensions and whale-watching trips (in season).
To book, visit fleewinter.com.