A piece of Rolls-Royce history for auction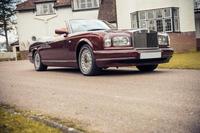 A great piece of British automotive history is heading to auction next month when the first example of the last Rolls-Royce model to be built at the original Crewe factory goes under the hammer at Silverstone Auctions.

Estimated at between £95,000 and £105,000, the Rolls Royce Corniche, chassis number 001, was purchased by the current owner in 2001. Its first owner was Rolls-Royce themselves who are believed to have used the car for testing and development, along with promotional marketing of the new model.

A significant motorcar in the history of the marque, the last of the 'proper Rolls-Royces', it was the final model to be developed at the original Crewe factory when the company was still independently owned. The car was also the first Rolls Royce to be launched in the 21st Century, an era which would see, and continues to see, huge changes having been taken over by BMW in 2003.

The car will be offered at Silverstone Auctions' May Sale on May 24th at The Wing, Silverstone Race Circuit and comes 110 years after the unveiling of the first ever Rolls-Royce, the 10HP in 1904.

Commenting on the car, Nick Whale, managing director, Silverstone Auctions, said: "It's a delight to be able to offer such a historically significant motor car for auction. Rolls-Royce is truly one of the world's most admired car marques and it's fantastic to be able to play a part in the history of a very significant example."

The interior of the car offers a degree of comfort and luxury that has become a hallmark of the brand. As regards the power train under the bonnet, there's no modern BMW V12 unit, but a 6.75 litre V8-engine whose Chrysler origins date back to the 1950s.

Fully maintained as per Rolls Royce factory requirements, the first five stamps in the service book were completed by Rolls Royce themselves at Crewe and the total mileage of the car today is just 24,926. Presented with the car is a substantial history file of service invoices and also the official sales brochure from Rolls Royce featuring the car itself.

For more information on the car, visit silverstoneauctions.com.