Spring has Sprung at Tyddyn Llan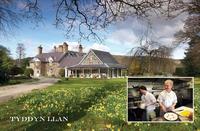 Now that the weather has turned the corner, wild flowers are appearing and the temperature is starting to climb, why not treat yourself and someone special to a gastronomic stay at Tyddyn Llan, one of only three restaurants in the whole of Wales with a Michelin star?
Bryan Webb and his wife Susan – who is now the face of 'front of house' at Tyddyn Llan – used to own and run the trendy restaurant Hilaire in London's Kensington for 14 years, before making their life-changing move to north Wales.
Bryan is now creating seasonal menus with the finest quality ingredients including scallops, langoustine and salmon from Scotland, lobster and crab from Cornwall, fish from Devon and Label Anglais chicken from a farm in Essex – even mozzarella is flown in once a week from Naples to Tyddyn Llan's kitchen door!
All the meat that Bryan cooks is from local farms butchered at the award-winning T.J Roberts in Bala, and some of the cows and lambs even graze in the surrounding fields of Tyddyn Llan.
The special overnight break includes Bryan's six course seasonal tasting menu, which features the finest spring produce such as New Season's Lamb, Sewin, Asparagus, Jersey Royals, Wild Garlic and St George Mushrooms.
Guests can upgrade to the nine course menu for an additional £15 per person.
The break, which is available from Sundays to Thursday until the end of June, costs from £100 per person in a standard room, £115 per person in a large room or £130 per person in a best room.
Additional night's cost from just £45 per person on a B&B basis, providing guests dine from the full dinner menu (all prices are based on two people sharing a room).
Well behaves dogs are also welcome in certain rooms.
For more information, visit tyddynllan.co.uk.