New hotel in Santorini, Greece for 2014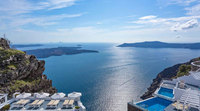 A brand new gem in beautiful Santorini, the luxury Angels & Stars Suites and Spa is unveiling this season. An utterly sumptuous, elegant choice in a modern Cycladic style, it's the grandest hotel on the island with a record of 30 lavish suites.
Perched up high on the Imerovigli cliffs to give a breathtaking caldera view, its unique size amongst small boutique hotels makes it a one-to-watch destination. And, despite its vast expanse, it offers a private experience, where personal pools that over-hang the sea make for a special and unique dip.
Each suite has a 'home but better' feel with clean, crisp, white decor; the very tonic for frazzled couples who need a calming retreat. You can opt in for a jacuzzi suite or a private infinity pool; what could be better than your own private spot to lap up one of the world's most awe-inspiring destinations?
Serenity and bliss is a feature found in the hotel's every corner, from the Heaven Spa, a truly intimate experience, to the flavourful wine tasting.
Part of the elite Aqua Vista affiliation of hotels (aquavistahotels.com), you can only expect optimum luxury when you visit Angels & Stars. It doesn't stop at beautiful rooms and a cutting-edge spa; in true Aqua Vista style, it even has the authority on the most delicious food. Two restaurants that offer the traditional flavours of the very best Greek cuisine, each dish boasts a more contemporary flair to please every palette.
Angels & Stars Suites at a glance:
Boutique cliffside Hotel - category 5*
Consisting of 10 standard suites, 12 jacuzzi suites, 4 plunge pool suites and 4 private infinity pool suites
Situated at the highest point in the centre of the village of Imerovigli, Santorini, Greece
Opening for the first time in 2014
Distances: airport 5km & port 10k
Angels & Stars key features:
Top honeymoon destination for UK travellers. Angels & Stars caters to honeymooners with themed room decoration featuring atmospheric candles and rose petals, and a bottle of wine upon arrival
Individually designed cave-style suites, all with a stunning view overlooking the Aegean Sea
Tailor made services prior to arrival. Eg: online check in, room scent and temperature, in house music and movies, candle light and rose petal decoration and choice of beds sheets, to name a few.
Magnificent pool with view of the Aegean Sea, volcano and sunset. Additional facilities include: choice to dine at three restaurants, wine cellar, bar and cave spa (with indoor swimming pool, treatment room and sauna)
Attention-to-detail services including: glass of champagne for the first sunset; application for an in-room iPhone/iPad/Android dedicated to providing guest services eg: fast online check-in, wake up call, all tailor- made services, in room dining and reservations for other activities (restaurants, excursions, car rentals) information about the island (tips, local maps, local weather, where to eat, activities, what to buy) and offer memento gifts upon departure.
For more information, visit angelsandstars.com.