Summer wedding opportunities at top venue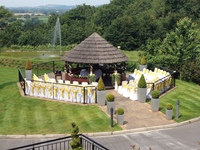 Wedding season is well underway in the South West as hundreds of happy couples tie the knot while enjoying the benefits of warmer days and nights.
And for those wanting to get hitched in the summer months, a top South West venue is pulling out all the stops to make dreams come true for couples who don't want to wait long to marry their loved one.
Despite many couples taking up to two years to plan the perfect day, wedding planners at DoubleTree by Hilton, Cadbury House say it can take a matter of months or even weeks if the right planning is in place.
The four-star venue, which mixes the traditional country house with a contemporary and elegant style, has launched a Wedding Extravaganza offer which means the remaining Summer 2014 wedding dates can be snapped up for a fraction of the price.
Couples who book now can enjoy an all-inclusive wedding day including food, beverages and room hire for just £2,999 for 60 daytime guests and 100 evening guests.
Dates are available for June, July, August and September but those interested are being encouraged to enquire soon before they sell out.
Rebecca Manzi, DoubleTree by Hilton, Cadbury House business development manager said: "This package is perfect for couples who are on a tight budget but who don't want to compromise on quality.
"They will be able to host their special day at one of the region's best venues for a significantly slashed price, and they won't have to wait too long to celebrate!
"We have a specialist team here at Cadbury House to help guide couples through the wedding process and we'll do everything we can to help get everything sorted in time for their big day.
"The venue is so stunning that this is an offer not to be missed out on."
For those considering the offer or for anyone getting hitched later in the year a special wedding open day will be held at the venue on Sunday 8 June.
The event will take place from 11am-3pm, where suppliers and the Cadbury House event team will be on hand offer advice.
Visitors to the open day will also be able to see the ceremony and reception rooms set up to cater for different numbers and with different colour schemes and styles.
Rebecca continued: "We find that usually people fall in love with the place straightaway so as always we're expecting a lot of sign-ups on the day.
"What's great about booking a wedding at Cadbury House is that we completely take the stress out of the planning and the day itself. We offer the complete package meaning minimal work for the bride herself and more time to enjoy the process.
"We love helping to plan every step of the way and it's great to build up a relationship with a couple, as they're looking forward to one of the most important occasions in their lives.
"Not only do we take all the stress away, the location is also second to none. The breathtaking views create the perfect backdrop for photos on the big day, which is always a priority for couples."
With several rooms licensed to hold both Civil Marriage Ceremonies and Commitment Ceremonies those wanting to create a real "wow" on their special day could consider an alfresco ceremony in the thatched Gazebo, with spectacular panoramic views stretching out across the North Somerset countryside and Bristol Channel.
The wedding open day is free admission. For further details email weddings[at]cadburyhouse.com.