Speedy set to power Britain's biggest motorsport series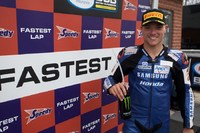 Speedy is on track to support one of the fastest circuits in the MCE British Superbike (BSB) Championship calendar for the fourth year running.
Preparations are in full swing to help power the pits and other areas of the site with a comprehensive temporary electricity network for the upcoming Speedy round of the MCE BSB championship at Snetterton circuit on 13th-15th June.
The commercial partnership with MCE BSB promoter and organiser, MotorSport Vision, will see Speedy provide more than 2km of cabling and distribution, and fifteen 100kva to 200kva generators will be used to ensure a continual supply of power to the pits and other areas of the ground including the entourage of race transporters, service crews, hospitality facilities and motorhomes.
The UK's leading provider of tools, equipment, plant rental and support services is also providing 120 digital radios for critical onsite track and emergency services communications as well as access platforms for TV production facilities to ensure they secure the best footage and pictures for millions of superbike fans worldwide.
It will take two days to set up the temporary electricity network and another 12 hours to decommission the facilities, with Speedy engineers working throughout the three-day event.
Speedy has been in partnership with the MCE British Superbike Championship since 2010, and plays a vital 'behind the scenes role' in all rounds of the championship.
Continuing in 2014 is the Speedy Fastest Lap Award, which provides recognition for the rider who records the fastest lap in each MCE British Superbike and Motorpoint British Supersport Championship race.
Brian Cornett, managing director of Speedy's Power Division, said they were delighted to be once again supporting the MCE British Superbike Championship.
He said: "The MCE British Superbike Championship is one of the highlights of Speedy's calendar and it's an exciting event that everyone looks forward to supporting.
"As well as a wide range of equipment, we also provide our expertise in delivering Power Solutions throughout the championship from April to October.
"From bringing electricity to the pits to powering motorhomes and hospitality facilities, we provide a fully comprehensive power solution as well as onsite communications and access platform equipment."
Stuart Higgs, MCE BSB Series Director, said: "We are very pleased to have the support of Speedy for what promises to be another exciting and exhilarating season.
"They are the ideal partner for us, not just because of their brand, but because of their energy and enthusiasm and above all high quality of equipment and service they bring to the task of supporting the Britain's biggest motorsport series."
Speedy is the UK's leading provider of equipment rental and integrated support services, providing the largest range of assets for hire anywhere in the UK. For further information, visit speedyservices.com.