Superstars and supercars!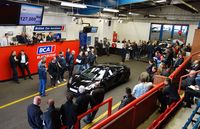 As the 2014 FIFA World Cup kicks off tonight, all the talk is about football. Apart from their fancy footwork and scoring skills, footballers are also known for their lavish purchases off the pitch… specifically luxury cars!
For fans aspiring to drive the same sort of car as one of their footballing heroes, BCA has created a team of the top selling prestige and supercars at BCA this year. The prices may not need a premier league pay packet, but they are still eye-watering!
England's own footballing star, Wayne Rooney, is the proud owner of an Aston Martin Vanquish, which reportedly set him back £166,000. For buyers looking for change from £100,000, an Aston Martin DB9 V12 470 was sold at BCA earlier this year for £79,200 and an Aston Martin DBS Volante V12 Touchtronic for £97,200.
For football fans fantasising about driving a Ferrari like Mario Balotelli, a left hand drive 458 Spider F1 finished in Rosso Red fetched £152,000, whilst two F430 F1's, one in Black and the second in Red, sold for £81,800 and £80,000 respectively. Footballers with a family may prefer the four seat Ferrari California F1 +2 in black, sold for £111,000 in April.
Brazil's footballing genius Naymar drives an Audi R8 GT rumoured to cost over £140,000. BCA has sold a fantastic selection of Audi R8 models this year, averaging around £90,000.
"BCA offers a wide range of luxury, prestige and supercars and they always attract a lot of attention from buyers, who are happy to bid six figure sums for the very best examples," explained Tim Naylor, Editor of the BCA Used Car Market Report. ""It could be that some well-heeled buyers are simply deciding that their money might as well be put to good use on a dream car rather than languishing in a savings account that is paying very little interest."