New data from BCA shows rising 4x4 prices as cold spell arrives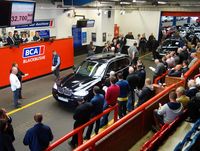 According to the UK Met Office, 2014 will have been one of the warmest years on record; however that will be cold comfort for some as temperatures are predicted to drop across much of the country in the next few days. And with scatterings of snow expected and icy conditions, BCA, the UK and Europe's leading vehicle marketplace, is warning of the likelihood of rising prices for sure-footed 4x4 vehicles.
"The arrival of cold temperatures and bad weather often mark an increase in demand for four wheel drive vehicles and this pushes up the average prices", explained Tim Naylor, Editor of the BCA Used Car Market Report. "We have enjoyed a mild autumn across much of the UK, but the arrival of some harsher winter weather will typically prompt a spike in values for 4x4s."
The average value of 4x4s at BCA has been creeping up during the autumn months, from £13,518 in September, to £14,174 in October and peaking at £14,402 last month. Previous years have shown once the temperatures start to drop, 4x4 values can rapidly rise.
"Every year we see a clear correlation between falling temperatures and rising prices for 4x4 vehicles" continued Tim Naylor. "Buyers in more rural areas often find 4-wheel drive essential when the weather turns for the worse and now would be a great time to buy before values really start to rise."
He concluded "If you are shopping around for a 4x4, go for the best specification you can afford, as this will help the vehicle retain its value. Alloys, leather interior, air-con and a good metallic colour are all desirable, while more 'rugged' accessories such as mounted spotlights or running boards can drive prices up too. It's preferable to look for a vehicle with a comprehensive service history because this will provide extra reassurance of reliability going forward."