Cycle the Planet with Adventure Worldwide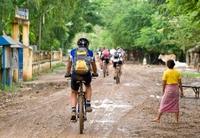 This week is UK National Bike Week but it's not just at home that our cycle-crazy country likes to get on two wheels as, increasingly, more and more of us are opting for holidays that include an element of cycling.
Leading adventure holiday Adventure Worldwide features cycling on the itineraries of many of its holidays – here are just a few examples:
Cycle Bangkok to Saigon – 14 days from £1245 pp
Cycle Bangkok to Saigon is a two-week trip that combines Thailand, Cambodia and Vietnam. It commences in the Thai capital, Bangkok, and goes all the way to Saigon via Cambodia and the iconic Angkor Wat Temple. Daily distances are taken at a slow pace along mostly flat back-roads, byways and dirt trails, allowing time to soak up the culture and places of interest en route. One highlight is cycling around Angkor Wat and then riding along the banks of the Mekong River Delta into Vietnam, discovering villages along the way.
Mountain Biking in Guatemala – 10 days from £1895 pp
Guatemala is one of the most scenically beautiful countries in Central America and the best way to see it is on two wheels. On the 10-day Active Guatemala three days will be spent mountain biking (interspersed with some trekking on some days). There will be a mix of dirt roads, trails and some sections of metalled roads and some not too difficult technical sections. Mountain Bikes and safety helmets are provided. There are fast and exciting down-hill rides and some ascents. The holiday is best suited to competent mountain bikers with a good level of fitness.
Active Transylvania – eight days from £895 pp
The eight-day Active Transylvania trip to Romania includes a day's mountain biking as part of the action-packed itinerary. Bikes and safety Helmets will be provided and the cycling is on a mix of dirt roads and village trails and is not of a technical nature. The terrain is primarily open, rolling grassland, and the ascents and descents are neither steep nor sustained. Other highlights of the trip include a visit to Castle Dracula, a chance to see bears, white-water rafting and a guided walk on the high Bucegi Plateau to Sphinx Rock.
Active Morocco – eight days from £695 pp
On the week-long Active Morocco trip a day is spent cycling in one of the world's most famous mountain ranges, the High Atlas. Commencing on the village of Azezmiz you will follow back roads with around 4km of the ride on piste (dirt) road and with vehicle support. Ride past olive groves and typical Berber villages over undulating ground, ultimately gaining 100m to a minor pass and then descend 300m to cross the Oued Nfiss River bridge. You will then ascend steadily to a second pass with a height gain of around 300m. Here at an altitude of 1080m, enjoy a picnic lunch before descending. Other activities include a camel trek, zip wire ride and guided hikes.
All holidays include all land transportation, activities as detailed on itineraries, accommodation, some meals and a tour leader. Flights are extra (bookable on request).
For more information, visit adventureworldwide.co.uk.