Military staff can buy a new home with the Forces Help to Buy scheme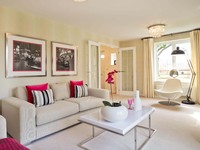 Servicemen and women who long to take their first step on to the property ladder can make this dream a reality by taking advantage of a new scheme on offer with Taylor Wimpey's new homes in Lincolnshire and Peterborough.
The Forces Help to Buy scheme enables military personnel to secure an interest-free loan of up to 50% of their annual salary to put towards the cost of their first home or to help them move house.
There's a superb selection of stylish apartments and spacious houses available to reserve now with Forces Help to Buy at Taylor Wimpey's developments in Lincolnshire – Oak Spring Gardens in Bourne, Pilgrims Chase in Spalding and Roman Fields in Witham St Hughs – as well as at The Shires in Peterborough.
Jackie Morris, Sales Executive at Pilgrims Chase, says: "There are lots of RAF bases in the local area and new homes here are already popular with servicemen and women. However, saving the deposit required for a first home or moving can be difficult, especially for personnel who move around throughout their career.
"The Forces Help to Buy scheme is a fantastic opportunity making it possible for these would-be buyers to put some roots down and get on to the property ladder, and we want to make sure that members of the armed forces know how to take advantage of the initiative with Taylor Wimpey.
"I'm hoping to visit bases across the area and in the meantime I would encourage anyone interested to contact one of our developments in Lincolnshire or Peterborough as soon as possible."
The Forces Help to Buy scheme enables servicemen and woman to borrow up to 50% of their annual salary, interest-free, to buy their first home or move to another property on assignment or as their families' needs change. Purchasers can borrow up to a maximum of £25,000 and the normal term of the loan is 10 years.
To find out more about securing a new home with Forces Help to Buy, visit taylorwimpey.co.uk.