Major facelift boosts North Somerset hotel's appeal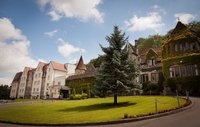 One of South West's most popular wedding and business venues is to undergo a major £100,000 facelift extending its private party and conference facilities.
Once complete, the work will transform The Great Room in the historic house at the DoubleTree by Hilton, Cadbury House hotel which has become a firm favourite with bridesmaids and businessmen since it was reopened back in 2007.
Including all the latest interior trends, colours and fabrics the capacity of the room will also be increased meaning the popular venue will be able to host much larger events.
A reflection on the demand for quality conference and meeting facilities in the area the management team at Cadbury House is also looking forward to showcasing the new facilities and new look room to couples wanting a quality venue for their big day
DoubleTree by Hilton, Cadbury House General Manager Colin Badcock said the popular Great Room had been hosting everyone from brides to businessmen since it was re-opened seven years ago as part of a multi-million pound development programme, but was in need of a refurb on the back of an increase in demand for high-end facilities and accommodation.
Colin said: "Cadbury House has gained an enviable reputation for being the best venue in the region for weddings, conferences and meetings. For that very reason the Great Room is in need of an upgrade.
"The work will ensure the venue continues to offer the best combination of style and space to reflect trends in what is a fast recovering hospitality sector.
"During the downturn people organising wedding parties or business meetings were understandably keeping a very tight rein on costs and were booking smaller and more intimate venues.
"Now the recovery is well underway many of our customers are looking for bigger spaces to cater for more guests – without compromising on style and comfort."
The Congresbury-based hotel has seen occupancy levels rise on last year and expects the trend to improve throughout 2014.
Colin Badcock said: "Bristol and the surrounding area has become a top destination attracting people from across the UK and abroad. This has driven intense competition which has re-shaped the city hospitality sector with all venues raising their game to cater for these vital markets.
"The work at Hinkley Point and development at Bristol Airport have also acted as catalysts to provide quality business and conference facilities. We're once again at the forefront of providing what the market demands and look forward to showcasing this fantastic venue.
"While we didn't feel a complete re-build was required it seemed to us the time was right for a judicious facelift, re-working some of our internal layouts to create additional space for the biggest wedding receptions or mid-week conference clients."
For further information, visit cadburyhotelbristol.co.uk.