New adventure tour on the Peruvian Amazon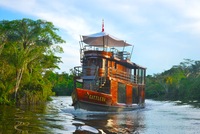 To capitalise on a bumper summer that has seen a World-Cup-inspired 43% increase in UK bookings, boutique Amazon River specialist Rainforest Cruises has launched a new cruise and lodge package in Peru.
The Peruvian Amazon adventure tour includes a four-day luxurious riverboat cruise and a gravity-defying tree-top stay.
Tours begin with two-nights in the Amazon's Treehouse Lodge, a collection of eight en-suite bungalows set from 25 feet to a staggering 65 feet in the air, all joined by secure walkways and platforms which are perfect for spotting the abundant tree-top wildlife.
After the spectacular stay, guests join the luxurious Cattleya Amazon riverboat to embark on a four-day adventure cruise into the little visited Pacaya-Samiria Reserve, the largest protected wetland in the world and recognised as one of the areas of highest biodiversity on the planet.
The eight-person riverboat is sleeker and has a smaller engine than other vessels in the region, allowing the Cattleya to quietly navigate further along narrow tributaries and channels for more chances to spot illusive wildlife.
Prices for the six-day tour start from £1,529 per person, with all accommodation and full board included. To book visit rainforestcruises.com/peru-amazon-cruise-and-lodge.
Jeremy Clubb, director at Rainforest Cruises says: "The World Cup has brought us a tremendous boost in interest from the UK, so we are hoping to continue that trend with tours that offer guests incredible vantage points of the rainforest, bringing them face to face with some of the most breathtaking wildlife and plant life in the world, all from the comfort of some of the most luxurious and unique accommodation available in the Amazon."