A culinary trip to the Seychelles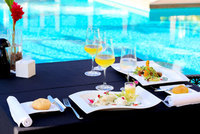 The Seychelles' multitude of culinary influences is reflected in the menus at the new 5-star Hotel Savoy Resort & Spa, gourmet chef Gennaro Avagnale invites guests to enjoy the culinary delights of the two hotel restaurants and beach bar.
Alongside endless sandy beaches and the azure-blue Indian Ocean, the Seychelles will also appeal to the adventurous gourmet. Local cuisine typically includes various types of curry and fish, but also chicken and beef are deliciously prepared on the plates of the Seychellois, as the indigenous people are called. The island's cuisine is inspired by the Creoles of the Caribbean, and is especially characterized by spices, such as cloves, cinnamon, ginger, cardamom and mint. Also influences from Asia, India and Africa mix themselves into the native cooking pots, which gives visitors a chance to experience a unique and delicious taste sensation.
Seafood lovers should head to the Savoy's signature restaurant, the Pescado. The kitchen, directed by the head chef, Gennaro Avagnale, has specialised in the symbiosis of fresh fish and white wine, skilfully uniting the many aromas of eastern and western cuisines with local influences. Avagnale, who has extensive experience in 5-star kitchens and restaurants awarded Michelin stars, creates unique and imaginative dishes, that always live up to his motto "Cooking is the art of life".
Regional specialities are on offer in both of the Savoy's hotel restaurants. Alongside the breakfast and dinner buffet, the Grand Savoy restaurant menu offers a colourful mixture of local and international dishes, all carefully prepared by top chefs. With a variety of dishes from Spain, Italy, Russia or China, every guest can find their favourite and look forward to something new every day.
Guests, who would like to sample a tropical cocktail or smoothie, can wander down to the Gecko Bar, just a few meters from the beach and the perfect way to finish dinner and start a lovely evening.
Savoy Resort & Spa
The five-star Savoy Resort & Spa is located on the famous Beau Vallon Beach on the Seychelles' island, Mahé. Altogether, the guests have their choice of 163 modern and comfortable rooms and suites on five floors, as well as a modern conference centre. What makes the Savoy Resort & Spa special is the unique location directly on the white-sand beach with a breathtaking view of the Indian Ocean. Since May 2014 the Savoy Resort & Spa is part of the Preferred Hotel Group, making it officially an extraordinary, independent hotel in a fantastic destination.
For more information: savoy.sc