Kia GT4 Stinger concept and 2014 Soul earn International Design Excellence Awards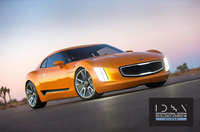 Kia has built a reputation for world-class design over the recent years. The Industrial Designers Society of America (IDSA) has now added to the Korean brand's award haul with a pair of prestigious design titles. Kia received International Design Excellence Awards (IDEA) in the transportation category for both the GT4 Stinger concept vehicle and the 2014 Soul, earning Silver and Bronze honors.

The IDEA is an assessment of global design, which recognises designs that affect quality of life, and promise significant economic impact through innovation in categories such as Automotive and Transportation, Design Strategy, Computer Equipment and Environments. The 2014 competition included 2,000 candidates from 39 countries with each entry evaluated for innovation, benefits to the user and client, sustainability and visual appeal.

Tom Kearns, chief designer at Kia Design Center America (KDCA) said "These IDEA honors are truly a testament to the abilities of the Kia Motors design team. The GT4 Stinger was conceived selfishly, but to great effect.

"We wondered what it would be like for the California-based design team to execute our vision of the ultimate Kia performance car, with a keen focus on drop-dead-gorgeous exterior styling and unparalleled driving dynamics. As for the Soul, reinventing an icon is perhaps the biggest challenge our team has faced. You have to offer a fresh take without losing the essence of what made the original so appealing. In both cases, we couldn't be happier with the results," he added.

The Kia design team, led since 2006 by Kia Motors Corporation president and chief design officer Peter Schreyer, has consistently garnered praise for its innovative, European-influenced work, transforming the Kia brand and contributing to substantial global growth over the last five years. The IDEA honor is the third major design accolade for Kia's second-generation urban passenger vehicle, the 2014 Soul, joining Red Dot and iF awards. The GT4 Stinger concept car has also earned media and industry praise around the world for its stunningly aggressive and sporty appearance.