Yukon's invitation to adventure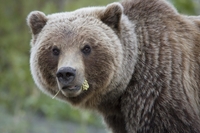 If your favourite view of the world is through a lens, you'll find Yukon an irresistible photo shoot.
Let's break it down.
Our Scenery
it's unbelievably dramatic because there are just so many extremes: Mount Logan nears 6,000 metres; the northern tundra touches the Arctic Ocean; valley rivers meander, mountain rivers race; boreal forests subdue, alpine meadows enliven; the southern lakes froth, the mountain lakes reflect — and everywhere there is a mood nurtured by the ever-changing weather.
Our Mountains
the boreal forest of spruce, pine and poplar covers everything but the water in most of the territory … but only to 1,000 metres where the forest is stunted by a dominating alpine climate. So that's where the great rocky pinnacles begin - grey monoliths sprouting from the verdant forests. Want drama? Catch the peaks when they're snow covered…when framed by a mountain storm…when silhouetted against the northern lights. Yukon mountains change so often with the light they can seem alive.
Our Wild Flowers and Autumn Colours
crocus, wild rose, fireweed, larkspur, lupin, the colours in our carpet can be phenomenal, as opulent as they are delicate and elegant - the blues, pinks, reds and yellows of June and July. Wildflowers are beauty, wild and untamed. By mid-August the colours begin to change in the north – turning the green tundra into glowing shades of autumn. The colours slowly advance south bringing spectacular shades of yellow and orange to the aspen forests.
Our Wildlife
There are twice as many moose in Yukon as people; black and grizzly bears; wolves; mountain sheep and goats; wood bison; 23 herds of caribou - one among the largest migratory herds in the world. Opportunities for unforgettable wildlife photography are here but you have to work at it - our animals are shy. But we have a wilderness preserve too: a more point-and-click approach to wildlife photography.
Our History
History may be the passage of time, but not in Yukon. Our history was a fleeting moment when the cry of 'Gold!' went out and people from around the world left "kith and kin" to join the search in the Klondike. And the history is still there - in the buildings, the mining claims, the bountiful artifacts … and in the air. A century ago Dawson City was one of the largest cities in western North America. And in all its historical splendour and in all its fantastic photogeneity it is still alive today.
Our Communities
When you fly into Whitehorse, you're flying into a community that from the air seems like a geo-political cul-de-sac…a brave little community in the middle of the wilderness sprawling on both sides of the Yukon River. But walk down Main Street and you'll find a thoroughly modern metropolis with more than its share of idiosyncrasies: a log skyscraper, the world's longest wooden fish ladder, a sod roof museum, a turn-of-the-century train station and, standing sentinel to a glorious past - a beached sternwheeler. All of our communities tell the story of man against the elements …
Our Light
The Midnight Sun circles the horizon on the Arctic Circle but will not go down, not on the longest day, June 21. In southern Yukon it does … but only fleetingly - a brief twilight before a long day of pitching light, perfect for those "once in a lifetime" shots. And later in the year when it gets dark, the Northern Lights swirl in the sky, sometimes in white, sometimes in reds, greens and blues, sometimes in ribbons, some times like clouds but always magically.
If photography is all about light, Yukon is all about photography. Our scenery, wild flowers, wildlife, history and communities are wonderful targets for all visitors armed with a camera.
Go with a guide or head out on your own. There are lots of Yukon adventure companies who lead tours to the most scenic parts of the territory, by foot, by bike, in canoe, by dog team, by helicopter. Or strike out on day trips or on your own.
Get exposed to Yukon and capture a petabyte of memories.
Prestige Holidays offer offer an 14 day 'Yukon Gold' self drive tour from £2,998 per person including return flights to Whitehorse (via Vancouver), 13 nights accommodation and 14 days fully inclusive SUV rental. For more information, visit prestigeholidays.co.uk.