New colours from Shark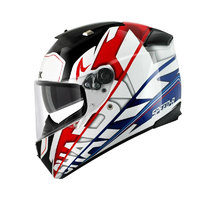 Spruce up your summer with a brand new helmet from Shark in one of the five new colours that have been added to the comprehensive 2014 collection. New designs are available on the popular Speed-R, S900-C, S600 and Evoline Series 3 helmets.

On the Speed-R is the Craig, a bold design with block and stripe colours and four different options to choose from – white/black/red, white/green/red, white/black/red and black/white. The Craig has an RRP of £299.99.

The S900-C Hedge has had chrome detailing added to its design with the KUK colour. The chrome effect is set off against the helmet's black base colour and offers a very striking design. The Hedge has an RRP of £199.99.

A new model on the S600 helmet is the Terror. The design features a monster's claw on the back of the helmet with scratch mark detailing across the front and sides, as well as the Shark logo in the background. The Terror is available in two colours with a green claw and the matt version with a red claw. The Terror has an RRP of £119.99.

The popular S600 No Panic has also had a new colour added to its range – florescent yellow against a black base. The No Panic KYK has an RRP of £119.99. Another black and florescent yellow offering is the Arona HV KYK on the dual-purpose Evoline, which can be worn as a both a full-face or open-face helmet. The Arona has an RRP of £339.99.

All of the new colours are available in UK dealers, for more information or to find your local dealer, visit nevis.uk.com.