10 lovely outdoor wedding decor ideas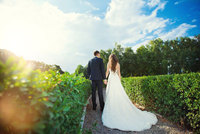 When it comes to getting hitched in the summer, many love birds are taking to the great outdoors to celebrate this glorious day in the glorious weather outside. If you love the idea of an outdoor wedding, or at least having part of the day outside, we've put a list together of ways of decorating it with clever decor items to make the setting as beautiful as you'd always envisioned it to be.
1. Mason jar candle holders
Particularly if part of the day will outside at night, candles are a great decor addition that will also serve a purpose in terms of illuminating up your scene. Put them in mason jars to make them safer and more wind-resistant, too. You even could use citronella candles to keep the bugs at bay.
2. Fairy lights
Another great way to illuminate the setting in style is to use outdoor fairy lights. They're surprisingly cheap on sites like lights4fun.co.uk and there are lots of varieties to choose from. String them up anywhere and everywhere – around trees, along the aisle, around seats etc.
3. Flower garlands/bunting
Use elements of your natural setting for a really pretty, bohemian (and cheap!) appeal. Make garlands or bunting from flowers, leaves and twigs and drape them along the aisle or around food tables for a surprisingly easy and quick decor item.
4. Blackboard signage
This is a really great rustic item for outdoor weddings and you can even DIY blackboards yourself really easily following a simple tutorial. Stick menu items, directions and order of service on them for everyone to see and have easy access to.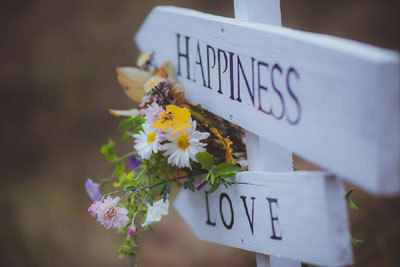 5. Framed photos attached to trees
Create a literal 'family tree' by framing photos and attaching them to nearby trees; great for those special people in your life that can't be at your special day. You could even have a Polaroid camera nearby and encourage guests to take photos of themselves and add them to the tree!
6. Refreshment supplies
If you're lucky enough to have amazing weather on your big day, you may want to have some reinforcements to ensure the comfort of your guests as they sit and watch the ceremony. Have a lot of refreshment supplies, like fresh water and small snacks to keep them all happy throughout the day. You could display them in rustic buckets filled with ice.
7. Summer related favours
Likewise, when it comes to favours, add a decor element by the way you present them. Use the summery aspect of your wedding to give your guests something sweet and useful, like sunglasses or flip flops for the long day ahead.
8. Keep the bugs away in style
As mentioned above, using citronella candles can be really useful, but things like bug sprays can be a life saver too. Why not have a little table full of things to keep them at bay, like sprays (you can change the labels/bottles and make them look prettier) and lotions. Be sure to protect your cake and food too. Nets are a great way to do this.
9. Make-shift aisles
Great for if you're on a tight budget; make your own aisles with things like fairy lights, candles, garlands and ribbons. Get your crafty friends involved to help you make the most of the supplies you have.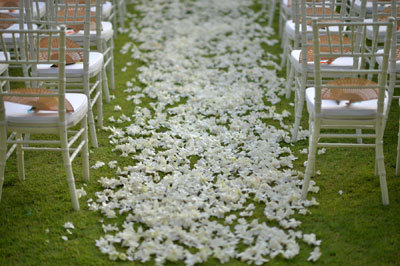 10. Simple photo backdrops
Invest in a load of photo frames of different sizes and styles and suspend them from trees against a beautiful backdrop. These automatically become photo opportunities for your guests and will make for some stunning, vintage photos.