Travel interest to Germany up 24% following World Cup victory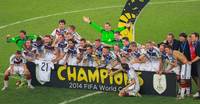 Travel interest to Germany increased by 24 per cent the day after their national team won the 2014 FIFA World Cup, according to hotel search website trivago.co.uk.
When hotel searches made by Brits on the day following the final match (Monday 14th July) were compared to searches made on the same day the previous week, travel interest to the whole of Germany had increased by 24 per cent. Interest to Berlin specifically, where the famous homecoming celebrations took place, increased by 35 per cent. Searches were for travel during the succeeding six weeks.
However, when the search period was extended to the week following the final (14th to 20th July) and this was compared to the preceding week (7th to 13th July), searches to Germany only increased by 8 per cent and searches to Berlin by just 4 per cent. This shows that although there was an initial interest in travel to Germany, this had diminished by the end of the week.
When global data was considered, only two countries showed a larger increase in searches on Monday 14th July: Ireland (49 per cent increase to Germany and 65 per cent to Berlin) and Italy (34 per cent increase to Germany and 37 per cent to Berlin). These figures had dropped significantly by the 20th July.
Some countries showed a decrease in travel interest to Germany following the final, suggesting visitors wanted to avoid the country while the celebrations were ongoing. These include Finland (down 41 per cent on Monday 14th July), Norway (down 29 per cent) and Belgium (down 22 per cent).
Although there was an increase in searches from the UK to Germany, it was not the country with the greatest travel interest. In the week leading up to the final (7th to 13th July), the majority of searches to Germany came from Denmark (26 per cent of all searches), followed by Switzerland (15 per cent), The Netherlands (15 per cent) and Austria (11 per cent).
Over half of global travel interest to Berlin, where the largest celebrations took place, came from Denmark and the rest of Germany (26 per cent of searches each).
Denise Bartlett, UK Public Relations: "Although there was an initial increase in UK travel interest to Germany, this had almost returned to normal one week after the final. This shows that it is unlikely Germany's World Cup victory will have a lasting effect on tourism to the country. It is more likely people were initially attracted to the country due to the significant media coverage following the World Cup final, which portrayed a happy and celebratory country.
It is interesting to note that a significant number of searches to Germany came from The Netherlands in the week leading up to the final, considering the two countries could have been rivals. Perhaps the Dutch didn't want to miss out on the celebrations, and chose Germany as their next-best option. Similarly, the Danes seemed to support Germany (accounting for 26 per cent of all searches), perhaps because own their team did not qualify for the World Cup."