Premium look and luxury features for cabin of 3rd Generation Kia Sorento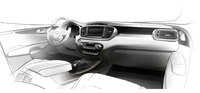 Kia's flagship SUV the Sorento will feature dramatic quality improvements at its launch next year.

The third generation Kia Sorento's cabin will raise the bar in luxury thanks to a modern, wrap-around dashboard, high quality soft-touch materials and a range of advanced on-board technologies. Together, these developments will enhance the ownership experience of the brand's popular SUV.

Interior styling was led by the brand's design team in Frankfurt, Germany, which cited the finest modern Swiss watches as a key influence during the design phase. The smoothly-contoured cabin features a higher proportion of soft-touch materials, leather and stitching, as well as Kia's latest HMI (human-machine interface). A large infotainment screen dominates the centre of the dashboard, which employs long, flowing shapes to cosset the driver and front passenger and to emphasise the width and space of the larger cabin.

The all-new Sorento will be showcased in Korea in late August, and is due to make its European Premiere on Thursday 2 October at the 2014 Paris Motor Show.