Celebrate summer the Chedi Andermatt way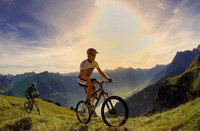 'The hills are alive' in Andermatt this summer. Lush, mountainous backdrops, foaming waterfalls and hauntingly still lakes offer the perfect setting to satisfy the intrepid explorer, hiker and cyclist, and at its epicentre is the The Chedi Andermatt. To celebrate its first summer since opening, the hotel is introducing a series of 'Explore in Style' packages.
Explore in Style: Alpine Active Package
For the sports enthusiast with an appreciation of nature, this mountain biking package allows guests to explore the beauty of Andermatt with its timeless villages and evergreen scenery. A complimentary personal training session will get you in the spirit and a 60-minute Alpienne Mountain massage will round the day off perfectly. Valid until 28 September 2014 for guests staying for two nights B&B basis in a Deluxe Room or Deluxe Suite, including a day mountain bike rental and day pass for railways, trains and buses. From CHF 2,745 per room (approx. £1,787).
Explore in Style: Summer Package
Guests can take in the sensational views in a more leisurely fashion with a two hour, private guided tour of Urseren Valley. This package includes a 60 minute Alpienne Mountain massage, a four course gourmet dinner and a bottle of Tattinger. Valid until 30 November 2014 for guests staying for two nights B&B basis in a Deluxe Room or Deluxe Suite. From CHF 1,890 per room (approx. £ 1,230).
Rejuvenate in Style Package
Wake up to invigorating, daily yoga sessions that more than justify the gourmet four-course dinner later on. Guests can unwind with an extensive 120 minute Balinese Oriental Ritual spa treatment for two, including aromatherapy foot polish, Balinese massage, a choice of body polish and an oriental bathing ceremony. Valid until 19 December 2014 for guests staying for three nights B&B basis in a Deluxe Room or Deluxe Suite. From CHF 2'775 per room (approx. £ 1,806).
Tee Off In Style & Unlimited Golf until September
Guests of The Chedi Andermatt will be among the very first to experience the new Andermatt Swiss Alps Golf Course, which opened in June. Hotel guests staying within the Urseren Valley area and Andermatt Swiss Alps property owners will have exclusive access to the course until the full public opening, scheduled for 2016. The hotel is offering guests staying between 1st June to 30th September unlimited rounds of golf. The hotel has also launched a Tee Off In Style package, which includes two nights in a deluxe room or deluxe suite, ground fees for two rounds of golf, a dedicated golf butler and transfers to and from the golf course. Private canapés in-room and a bottle of Champagne followed by a four-course dinner in The Restaurant are also included. The Chedi Andermatt's Tee Off In Style package is valid from 1st June - 30th September and starts from CHF 1,590 (approx. £1,054). The 'Unlimited Golf' promotion is valid from June to 30th September on stays between Wednesday and Sunday.
New Sport's Butler Service
Understanding that active guests will want to make the most of every moment spent in the Urseren Valley, the hotel has introduced a dedicated Sports Butler service. On hand to cater for each sporting whim, the expert butlers will rent sports equipment, make bookings, organise ticketing, give tips and recommendations on activities, the best locations to do them, arrange guides and trainers and even advise on the weather conditions to suit each sport be it golfing, fishing, biking or hiking.
For more information and reservations, visit chediandermatt.com.