Discover Ethiopia's Historic North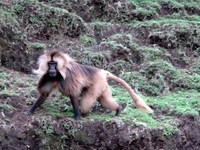 Specialist operator Travel The Unknown has a new departure this October providing a chance to discover the historic north of Ethiopia often referred to as the 'cradle of civilisation' and home to the oldest known humanoid in the world.
With extraordinary ancient archaeology, soaring mountains, vast lakes, historical secrets and a plethora of flora and fauna, Ethiopia has much to offer the discerning traveller with a hunger for adventure and discovery.
Highlights of the trip – which has a five star rating for being off the beaten track - include a tour of Addis Ababa, seeing the skeleton of 'Lucy' believed to be the oldest in the world, visiting the rock-hewn churches of the Tigray and Lalibela, the towering obelisks of Axum – Ethiopia`s holiest city, former home to the Queen of Sheba and where the Ark of the Covenant is still believed to reside – and the ancient monasteries, vervet monkeys and birdlife hidden in the island forest of Lake Tana (click here for detailed itinerary).
Lake Tana is the largest lake in Ethiopia and also the source of the Blue Nile. The lake contains 37 islands which provide shelter to 20 monasteries, which are used to shelter religious artefacts, largely due to their remote location.
No trip to Ethiopia would be complete without a visit to the Simien Mountains National Park – a World Heritage site - with peaks such as Ras Dashen standing at over 4000m high.
Popular with trekkers, the underdevelopment of the Simien Mountains National Park is cited as part of the reason why it is regarded as amongst Africa's most beautiful mountain ranges. It is home to a wide variety of endemic species including the gelada baboon, Ethiopian wolf and wild ibex.
Lalibela – visited on day nine of the itinerary – is another of Ethiopia's legendary cities and believed to pre date the 12th century. It was originally known as Roha and renamed following the death of King Lalibela; legend suggests that following his death, he was instructed to return to the city with the intention of recreating the holy city of Jerusalem. To this day, many of Lalibela's features remain similar to those of Jerusalem, such as The Tomb of Adam, River Jordan and Calvary.
This extraordinary holiday departs on 29 October 2014 (and 2 February 2015) and costs from £2495 pp (two sharing) a reduction of £200 pp on the original price. This includes regional flights, all land transportation, 13 nights' full-board, boat ride on Lake Tana, site entrance fees, drivers and local guides (£3095 pp including international flights).
For further information on the complete range of trips offered by Travel The Unknown, visit traveltheunknown.com.