Witness the festivals of Ethiopia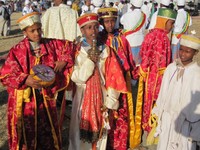 Specialist operator Travel The Unknown is offering the chance to witness the extraordinary festivals of Genna and Timkat in Ethiopia, 'The Cradle of Civilisation'.

The country is home to the Ethiopian Orthodox Tewahedo Church, one of the oldest orthodox churches in the world and with over 40 million members it is also the largest; it is also a founding member of the World Council of Churches.
The journey begins in Addis Ababa with a tour and a visit to the Merkato, the biggest open air market in Africa where you can buy everything from 15th-century, wood-bound Amharic bibles (the authenticity of which is possibly up for question) to the colourful circular baskets which the locals use to transport their injera - the spongy bread staple of Ethiopian cuisine.
At midnight there will be a chance to visit one of the Addis churches to witness the pilgrims draped in white robes, and listen to the spiritual singing Kidase; this is the Eve of Genna – the orthodox Christmas which is celebrated on 7 January.
After visits to St. George Church Museum and The Ethnographical Museum the next port of call is Bahir Dar; it is reached via the 13th century monastery of Debre Libanos and the Blue Nile Gorge (the Ethiopian Grand Canyon), before enjoying a boat trip on Lake Tana, Ethiopia's biggest lake and home to the 16th century Ura Kidane Mhiret, one of the many monasteries situated on the islands on the lake.
Other highlights of the itinerary include:
A stay in Gondar, the 'Camelot' of Ethiopia, founded by Emperor Fasilidas around 1635, famous for its many medieval castles and churches
Guided walk in the Simien Mountains National Park to spot endemic gelada baboons
A drive along the scenic Debre-Tabor road to Lalibela in northern Ethiopia which is famous for its monolithic rock-cut churches and the country's second holiest city and a centre of pilgrimage
Mule trek on Asheton Mountain, meeting the locals, with a visit to the Asheton Mariam monastery and cave church of Nakutola
Rural walk to the Blue Nile Falls and boat ride on Lake Tana to visit its hidden island monastery
The holiday ends in Axum with a visit to St. Mary of Zion Church (where the original Ark of the covenant given to Moses is believed to rest) to attend the annual Epiphany or Timkat; the priests and deacons will be wearing traditional costumes and holding decorated umbrellas which are used during such religious occasions.
The selected high priest shall also carry the replica of the Ark of the Covenant whilst the crowds dance, chant and sing.
The holiday departs on 5 January and ends on 19 January. The trip costs from £2495 pp (two sharing) which includes domestic flights, all transportation, 14 nights' full board (except in Addis Ababa) and drivers/guides throughout. Flight inclusive price from £3095 pp.
For further information, visit traveltheunknown.com.